China and PSC Cooperation – 2020.08.31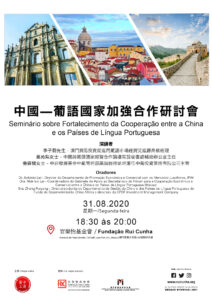 Cooperation Seminar between China and PSC – 2020.08.31
The Rui Cunha Foundation, the CCILC – Portugal-China Chamber of Commerce and Industry and the IPIM – Macau Trade and Investment Promotion Institute, will hold next Monday, August 31 at 6:30 pm, a "Seminar on Strengthening the Cooperation between China and the Portuguese Speaking Countries", at the RFC Gallery.
The guest speakers invited to contribute with their knowledge to the event are Mr. António Lei, Director of the Department of Economic and Commercial Promotion with IPIM's Lusophone Markets; Ms. Mok Iun Lei, Coordinator of the Office of Support to the Secretariat of the Forum for Economic and Commercial Cooperation between China and Portuguese-speaking Countries (Macau); and Ms. Zhang Ruiyang, Deputy Director of the Department of Management for China and Portuguese-speaking Countries of the China-Africa Development Fund and also Director of CPDF Investment Management Company.
The purpose of the meeting is to launch clues about the strengthening of economic cooperation relations, as well as to highlight the results in terms of trade and professional opportunities for the local population, in the context of the geographies that contribute to the joint initiative. The strengths of the cooperation between China and the Portuguese-speaking countries, the strategic importance of Macau as a platform for commercial services among members, the investment criteria for the China-PSC Cooperation and Development Fund, are themes that will be part of the agenda during this seminar, which is open to the public.
The presentations will be addressed in Mandarin, with simultaneous interpretation to Portuguese.
Admission is free, but subject to limitations, due to compliance with the regulatory health measures in force.
Don't miss!
For Macau, Further and Higher!