Saturday Night Jazz – 2020.08.22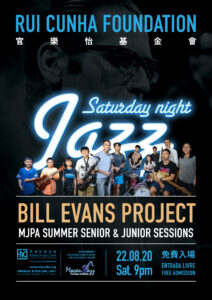 Saturday Night Jazz is back to the Rui Cunha Foundation Gallery!
The Rui Cunha Foundation and the Macau Jazz Promotion Association present this August 22nd at 9 pm, the Saturday Night Jazz – "Bill Evans Project" concert, a tribute to the great North-American master, with the Junior and Senior MJPA Bands, which after many months of interruption are now ready to resume their live public performances.
Directed by Mars Lei, President of MJPA, the resident bands will perform the great hits from pianist Bill Evans, a remarkable jazz player that has composed and recorded alongside Miles Davis and Chet Baker, to name a few, and is known for the innovative rhythmic interpretations of the traditional jazz repertoire.
William John Evans, who lived between 1929 and 1980, was born in New Jersey and studied at the Southeastern Louisiana University, where he majored in classical piano and composition. In 1955 he moved to New York, joined Miles Davis' jazz sextet and recorded a few years later the album "Kind of Blue", the best-selling jazz album of all time. Throughout his life, Evans has received 31 nominations and 7 Grammy awards, and is now on the list of the Down Beat Jazz Hall of Fame.
Admission is free.
Don't miss!
For Macau, Further and Higher!