Guan Daosheng (1262 – 1319) – 2020.08.01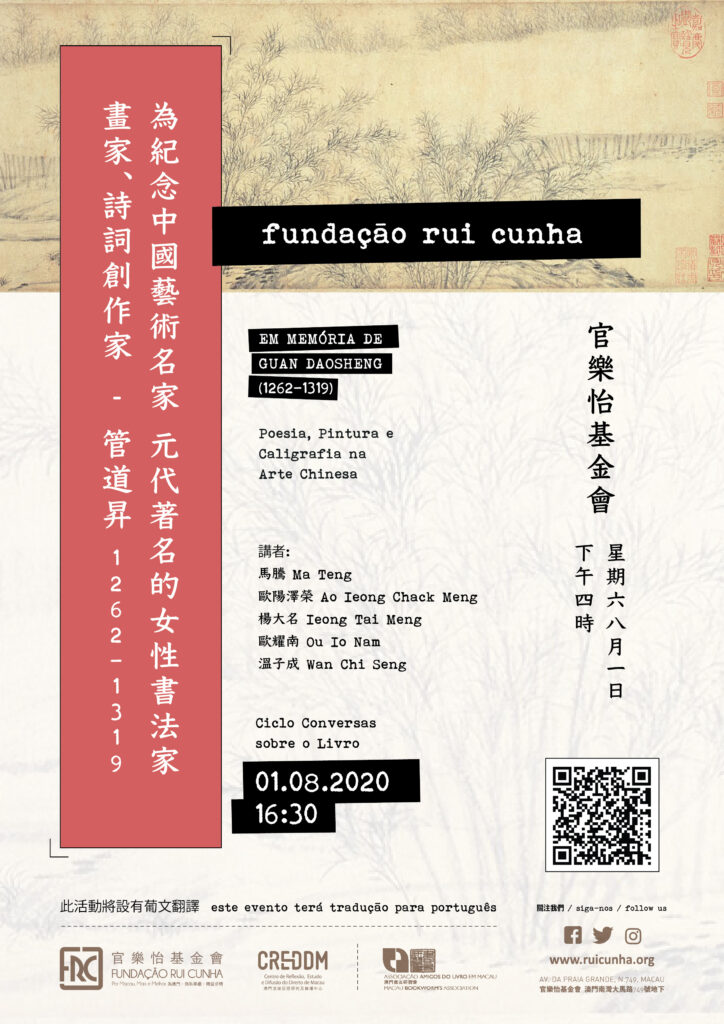 The Rui Cunha Foundation and the Macao Bookworm's Association will hold on August 1, 2020, at 4:30 pm, a commemorative session at the FRC Gallery to remember the seven hundred years over Guan Daosheng's passing.
In a society entirely dominated by men, where the Confucian tradition gave women a limited space by the four walls of a room or, if more, by the walls of the home, Guan Daosheng ventured to express herself with the brush, considered at the time as a manly utensil.
With it, she gathered three types of language – writing, calligraphy, painting – to express her emotions. The pure, chaste and obedient wife became a woman of intense affections who identified herself with the bamboo.
This plant, which has a slow but strong underground development, only sprouts on the surface of the earth years after being sown. Its leaves reflect the softness combined with the breeze of the wind, while the trunk bends without breaking.
These subtleties, coming from a feminine perspective, allowed Guan Daosheng to view and capture the world.
We will attempt to face life through her sayings, written or painted, and we may find that human nature is no different from the past. It is urgent to calm down in this universe of endless war and competition.
For this session, we invited the participants:
Ma Teng (Calligrapher) – Life and Work of Guan Daosheng.
Ao Ieong Chack Weng (Calligrapher) – The art of Chinese calligraphy.
Ieong Tai Meng (Painter) – Traditional Chinese painting.
Ou Io Nam (Calligrapher) – Guan Daosheng's calligraphy and poetry.
Wan Chi Seng (Painter) – Interpretation of Guan Daosheng's pictorial work.
The session will be held in Cantonese, with simultaneous interpretation into Portuguese.
Entry is free, but subject to limitations, due to compliance with the regulatory health measures in force.
Everyone is invited to gather at the Rui Cunha Foundation, at 4:30 pm on Saturday, August 1, and take the occasion to breathe the freshness of a bamboo grove!
For Macau, Further and Higher!
 https://youtu.be/CDHlNYAx0_E