UNITYGATE Macao 2014
4th edition of  UNITYGATE Macao 2014
unitYgate is a Portal of Union through Art, based on the convergence of cultures and through an annual artistic and cultural exchange Platform between East and West. Through unity in diversity, this project gathers different areas and cultures, promoting the exchange of knowledge and connections among groups, seeking therefore the holistic dimension of Art. As transdisciplinary and multicultural, it crosses tradition and contemporary.
2014-07-03 Hojemacau, Unitygate
2014-07-04 Ponto Final, Unity Gate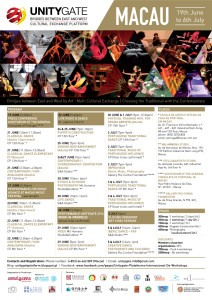 14 WORKSHOPS
Classical Dance adults – Pedro Paz
Classical Dance Children – Joana Silva
Contemporary / Amalgama Movement – AlSandra Battaglia
Contemporary Choreographic Composition – AlSandra Battaglia & Pedro Paz
Creative Dance for Parents and Children – Joana Silva & Pedro Paz
Iberic Dance Fado&Flamenco – AlSandra Battaglia
Physical Training Movement For Drama Artists – AlSandra Battaglia & Pedro Paz
Portuguese Dance of Traditional Influence – AlSandra Battaglia, Joana Silva & Pedro Paz
Portuguese Music of Traditional Influence – Rui Filipe Reis
Puppets Construction – Elisa Vilaça
Studio Photography / Outdoor Photography – António Mil Homens
Vídeo – to be confirmed
Singing Body & Movement – Pedro Paz
Life Dance for Seniors (+50years) – Alsandra Battaglia
PRESENTATIONS
Press Conference  – Music /Dance/Exhibition
Performance| Work in Progress – Pluridisciplinary, Sino Luso Creation
Jam Session of Arts
Closing Session – Video Art Show / Conference
Info & Applications:
unitygate.info@gmail.com | +853 6666 2889
"Learn, Create and Unite through Arts in the Difference on the Way to a Better World"
Prices:
300mop – 1 workshop/2 days (4h.)
200mop – 1 workshop/1 day (2h.)
150mop – 1 workshop (1h.)
400mop – Puppets Construction (6h.)
400mop – Photography (Studio/Outdoor) (6h.)
Discounts:
Members of partner organizations: 30%
700mop – Pack 4 workshops
2500mop – All workshops
//Escola de Artes e Ofícios da Casa de Portugal em Macau | Av. do Dr. Francisco Vieira Machado, 431-487 Edf. Industrial Nam Fung, 8th & 13th floor | +853 2872 6828 | portugal@macau.ctm.net
// Mil Homens Studio – Av. de Venceslau de Morais, 193-199 Edifício Industrial Nam Leng 8ºB
// Stella&Artists Studio – Av. Almeida Lacerda, Edf. Industrial Hap Vo, 3rd floor A
//Auditorium of the General Consulate of Portugal in Macau – Rua Pedro Nolasco da Silva, Nº. 45. R/C – Macau
____________________________________
//Workshops//
Contemporary /Amalgama Movement
Through an intensive approach to the methodology in open level, it invests in development of contemporary dance, approaching the participant of the main concepts that have created contemporary dance. Floor exercises, and center lines, with the development of body awareness, flow motion release, center of the body, breath until ace sequences in space and time, suspension and falls, jumps, rhythms and launches. Its purpose is to offer a set of knowledge, practices and tools which contributes for an artistic training in a process of personal development with the "Dancing Body".
Teacher: AlSandra Battaglia
Contemporary Choreographic Composition
Through an intensive approach to the methodology in open level, it invests in development of improvisation and creation in a work as personal such as relational. Provides instruments for creation and composition, reflections on the creative act, and the possibilities of individual and group choreographic composition. Are offered exercises and proposals to explore by each participant. There will be time for observation and reflection. It potentiates the own creative expression, spontaneity and authenticity, related with the "Dancing Body".
Teacher: AlSandra Battaglia & Pedro Paz
Creative Dance for Parents and Children
This workshop approaches Dance in an open proposal and movement freedom. Its principal focus is self expression building deep ties in the relationship, potentiating the entire being. Through a conduced improvisation the child and the parents explore their own movement and authentic expression, promoting self-knowledge; body, mind and emotions harmony; relation with the affections; development of their own capacities and the ability to communicate.
Teacher: Joana Silva & Pedro Paz
Traditional Music of Portuguese Influence
This Workshop aims to open the channels of spontaneity and creativity in order to capture the spirit of the tradition that each and every one inherited an expression of culture with its own voice. There is certainly a timeless memory of rituals and traditions that are individual and collective processes of passing a message, interactions with the people and the environment, a process called "living experiences". In this workshop we will work Traditional and Portuguese songs and music.
Teacher: Rui Filipe Reis
Traditional Dance of Portuguese Influence
The Traditional Portuguese Dances have, beyond a pedagogical component, an important role in awakening the individual to the cultural aspects that characterize the Portuguese culture. Knowing closely the Traditional Dances is to learn a little history of populations of the regions they inhabit, their festive religious and labor habits, and also the diversity of cultural and popular art forms. In short, what distinguishes, identifies and characterizes a Culture/Nation.
Teacher: AlSandra Battaglia, Joana Silva & Pedro Paz
Iberic Dance – Fado & Flamenco
The challenge of this methodology fusion it is to dance the Fado and Flamenco interwoven in its essence. It explores the general characteristics of Fado and Flamenco, and focus on what distinguishes and what the approaches both and how it can be expressed in dance. It will work  postures, exercises and expression of emotions and qualities of movement, throughout a transversal approach to "rumbas" and "sevillanas" well as the interpretation of danced Fado. It is an own methodology of the Luso Soul Fusion.
Teacher: AlSandra Battaglia
Studio Photography – "In the Flower Skin"
Reinterpretation of the Body – Searching abstraction in photographic terms, taking body(s) as the main theme. Looking one's body beyond the identity. Machine in hand, dipping in abstraction forms, in the breathing of the pores, in the corseted composition by the 4 lines of the frame. Participants will bring their digital camera, with charged battery and memory card formatted and empty. Maximum limit 10 participants.
Teacher: António Mil-Homens
Photography Outdoor  – "Touch and Flee"
The capture of movement – Bodies that move and dance abroad, moments suspended in the picture! Framing, chasing and record. Photography techniques motion approached in a synthetic and practical way in the pursuit of an aesthetic harmony, always subjective. Participants will use their digital camera, whose basic operation should be proficient. Do not forget the charged battery and memory card formatted and empty. Maximum limit 12 participants.
Teacher: António Mil-Homens
Physical Training Movement for Drama Artists
Body and Plastic expression of Body and Soul. Going through games, exercises, guided and improvised proposals in continuum present, developing self-awareness, spontaneity and authenticity of expression and knowledge of body, space and time. This will enable taking consciousness of breath, of organic nature of the movement of the body and the potential of its expression in relation to the unit. Postures, breathing, tone, flexibility, basic actions of the movement, rhythms, dynamics, levels, directions, qualities, duration, energy and space dimension in created motion. All of these tools so precious for the Actor will be addressed.
Teacher: AlSandra Battaglia
Classical Dance (Adults| Open Level & Children | 7-10 years)
Both for Adults as for children the classes offer basic exercises for understanding the Classical Dance, promoting the acquisition of skills, understanding of the body, and of this particular style of Western Dance, using the vocabulary of classical dance, rhythms and dynamics appropriate to each movement. The level of difficulty and complexity will be adjusted to the level of the group composing the class without stiffness and in a freer learning method providing that all bodies may try this technique without constraints and promoting the pleasure of dance and body consciousness.
Teacher: Pedro Paz & Joana Silva
Puppets Construction
The aim of this Workshop is to introduce, through a brief historical and cultural approach, the puppets in the world. Introduction to puppet building. Different building and manipulation techniques. Relationship between actor/puppeteer. The puppet under a multimedia approach.
Teacher: Elisa Vilaça
Life Dance for Seniors (+50years)
This class is a Dance holistic approach, energetic and creative of body and movement accessible to all bodys with less mobility acquiring conditons for a change of self-limiting habits, resulting in a better integration of body, mind and soul as a whole, thinning out conditioning barriers empowering the Being to a more free, activ and integrated unity.
Teacher: AlSandra Battaglia
Singing Body & Movement
The Body sings and enchants while dancing, expressing and allowing itself, free, authentic and in peace with the present culture. In this workshop we're going to explore the voice that comes from inside an entire body, expressed by a fluid and natural singing. Mantras and traditional songs from several parts of the world will be also learned.
Teacher: Pedro Paz
____________________________
//Teachers//
 AlSandra Battaglia  (Portugal)
Dancer, choreographer, producer, dance researcher and teacher. She studied in National Dance Conservatory, graduated and finished the master's degree in Dance School University. She worked in cinema, opera and TV, with various choreographers and teachers in several countries. She is co-founder of Amalgama Dance Company where she is general director. In the 2009 she was honored as one of the significant routes of Dance in Portugal. In 2011 she worked with the Macao Cultural Affairs Bureau as Artistic Director of local projects. Since 2011, she is developing several projects and artistic collaborations in Macau.
Rui Filipe Reis  (Portugal)
Pianist/multi-instrumentalist/composer musical producer. Started to study music in Gregorian Institute. Integrated the original Project of Dulce Pontes, recorded 2 CDs with her and played in her shows during some years. He has a lot of composition and direction work. In 2006 he started his own Project: the producer RAGA MUSIC. He has launched artists such as: Rosanegra, Xaile, and at RagaKids, the character Serafim&Companhia.
Joana Silva  (Portugal)
Dancer and Teacher. Graduated at the Dance University in Lisbon (ESD). Professionally, she worked in Plural – Contemporary Dance Nucleus directed by Rafael Alvarez, a dance integration project. Along 2 years, she conducted the choreographic project "In a Sea of Things" with Olga Cunha's partnership. Since 2011, she is joining Amalgama Dance Company as a dancer, teacher and direction assistant.
António Mil-Homens (Macao)
António Duarte Mil-Homens, professional photographer, with work for various press agencies and commercial companies including food producers, cosmetics, textile, automobile, telecommunications, glass and crystal manufacturers, etc. With participation on 18 collective Photographic Exhibitions, held until now 15 solo ones.  Portuguese from Lisbon, lives in Macao, China.
Elisa Vilaça (Macao) 
Elisa Vilaça is graduated in Educational Sciences and Master in Portuguese Studies – History. Connected to teaching since 1980, time where she initiated her research and collector puppet work. Portuguese Popular culture has been also field of study, specially folklore. She has been dedicating the last years of her professional live to formation and production of gigantic puppets and props for several shows in Portugal and Macao, where she currently dwells and where she is implementing the Macao Puppet Museum under the tutelage of Casa de Portugal in Macao.
______________________________________