Myanmar Scenic Photography Exhibition
The Rui Cunha Foundation Gallery will be exhibiting from 20 to 29 August the "Myanmar Scenic Photographic Exhibition", a joint initiative of the Rui Cunha Foundation and the Writers Association of Myanmar-Chinese.
In the Gallery space, 40 photographs by three local photographers will be on display: Hong Huoshan, Lu Na na and Hu Yukun depicting natural landscape images as well as the contribution of Chinese emigrants to Myanmar's economic development that were captured during their trips to that country.
With this exhibition, it is hoped that the Macao public will appreciate the photographs and get to know Burmese beauty and culture better, contributing to the deepening of the cultural links between China and Myanmar.
The exhibition is scheduled to open on August 20 at 6:30 pm and is attended by Ms. Myat Thuzar Than, Myanmar Consul General in Hong Kong and Macao
Included in the inaugural program is the performance of Ana Chan Dance School students with Burmese folk dances.
Admission is free.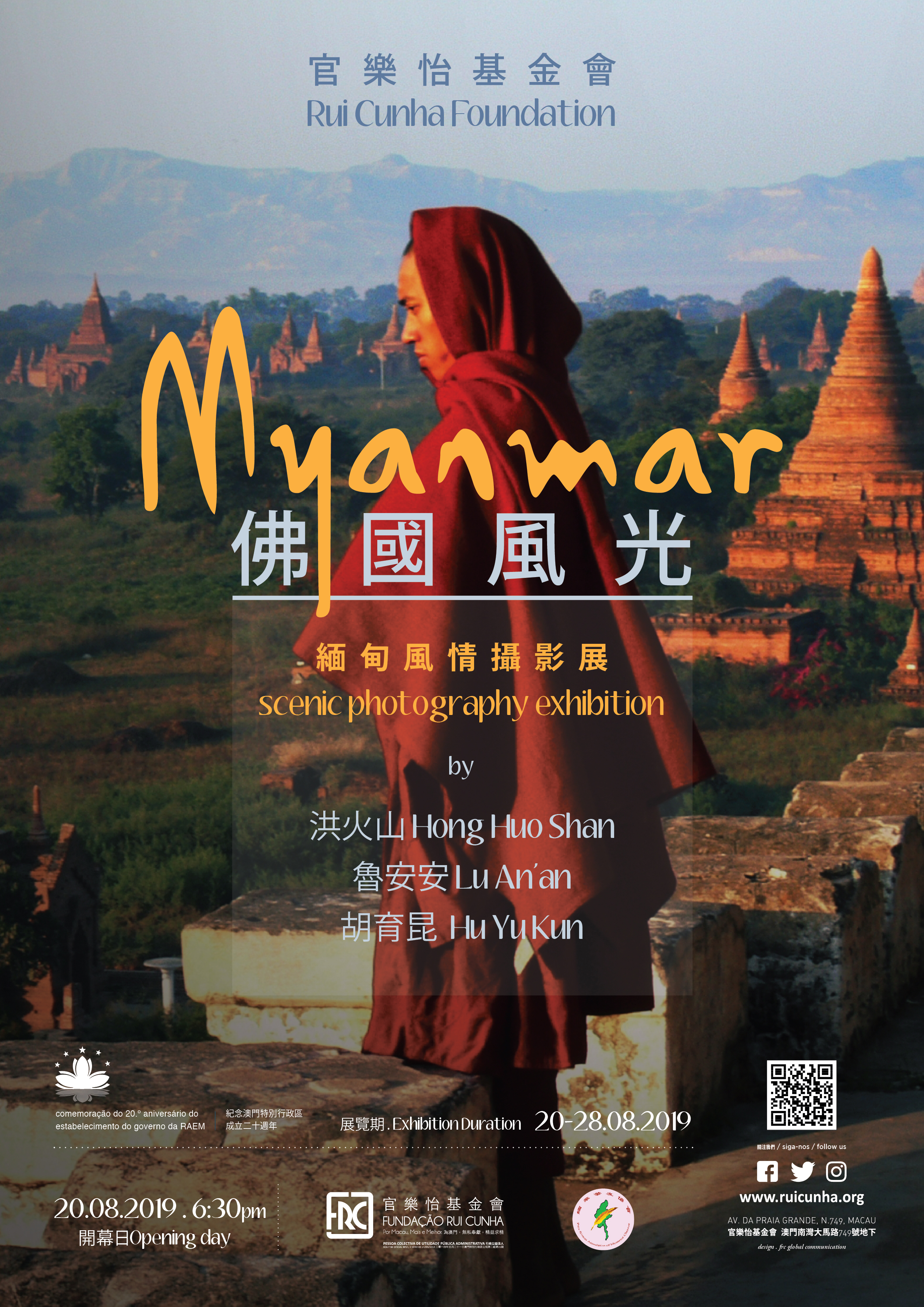 洪火山
20世紀50年代出生於緬甸仰光市,現任澳門沙龍影藝會副理事長。
Hong Huo Shan
Born in Rhengong of Myanmar in the 50s, current serves as the deputy vice chairman of the Photography Salon Society of Macao.
胡育昆
專業攝影師 – 從事經營攝影行業已35 年,從小耳濡目染父親當年在緬甸開相館的情景,培養出對攝影的興趣。曾拍過好多旅遊風景相、現任澳門攝影沖印業商會副監事長。
Hu Yu Kun
A professional photographer, has been working in the photographic industry for 35 years and under the influence of the photo studio run by his father at Myanmar, he developed his interest in photo shooting since childhood, taking many scenic photos. He now serve as a deputy supervisor in Macau Photography and Printing Traders Association.
魯安安
1993年加入澳門沙龍影藝會,於1995年開始研習攝影,喜愛拍攝自然風光、花卉丶佛門僧侶等題材。曾任澳門沙龍影藝會學術推廣主任。 榮獲澳門沙龍影藝會榮譽會士 (Hon.PSSM) 考獲澳門沙龍影藝會高級會士 (FPSSM) 英國皇家攝影學會高級會士 (FRPS)
Lu An'an
Lu An'an joined the Photography Salon Society of Macao in 1993. She started her learning in photography in 1995, and with special interest in different topic in shootings such as nature sceneries, flowers, and Buddhist monks.Ms Lu has been serving as Promotion Officer for the Photography Salon Society of Macao.
She is a Honorary Fellow (Hon.PSSM) in the Photography Salon Society of Macao; a Senior Fellow (FPSSM) of Society as well as a Senior fellow (FRPS) of the Royal Photographic Society.