Halftone – 2023.12.04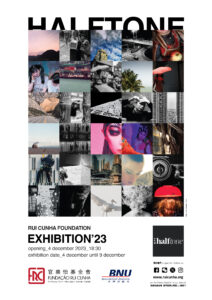 The Rui Cunha Foundation presents today, Monday, November 4th at 6:30pm, the Collective Photo Exhibition "Halftone' 23", that will display the annual works of 30 amateur and professional artists, members of the Halftone — Macau Photographic Association, curated by Gonçalo Lobo Pinheiro.
The joint exhibition will reveal a total of 30 works, ranging from documentary photography to artistic expression, including architectural, fashion, or street photography, in color or black and white, which can be seen on the walls of FRC Gallery.
The selected images are the outcome of an Open Call launched by the Association – some well known and others unpublished –, by the following authors, in alphabetical order: André Ritchie, António Mil-Homens, António Sotero, Bessa Almeida, Catarina Cortesão Terra, Cecília Ho, David Lopo, Elói Scarva, Francisco Ricarte, Gonçalo Lobo Pinheiro, Hugo Teixeira, Joana Freitas, João Daniel, João M. Rato, João Miguel Barros, João Nuno Ribeirinha, João Palla Martins, José das Neves, José Sales Marques, Lurdes de Sousa, Maria José de Freitas, Mide Plácido, Nélson MS Silva, Nuno Veloso, Pascal Pun, Ricardo Meireles, Rusty Fox, Sara Augusto, Sara Marçal and Stefan Nunes.
Halftone is a non-profit cultural association created in 2021, headquartered in the Macau Special Administrative Region, which aims to promote contemporary photography in all its aspects. Founded as an inclusive and comprehensive body, the association is open to all those interested in photography as an artistic or documentary expression, regardless of their experience or practice. In addition to furthering the photographic work of its members, Halftone also aims to organizing exhibitions, publishing a magazine, books and monographs, proposing debates and developing pedagogical and educational projects.
This exhibition has the support of Rui Cunha Foundation and Banco Nacional Ultramarino and will be on display until December 9th, 2023.
Admission is free.
Don't miss it!
For Macau, Further and Higher!