Building the 20th Century: José Maneiras – 2023.11.01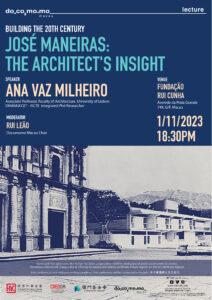 The Rui Cunha Foundation and the Docomomo Research Center of Macau present on Wednesday, November 1st at 7:00pm, a lecture entitled "Building the 20th Century . José Maneiras: The Architect´s Insight", with the participation of Architect and Professor Ana Vaz Milheiro as key speaker and Architect Rui Leão as moderator. The event will take place at FRC Gallery.
The lecture "José Maneiras: The Architect´s Insight" «celebrates the public life of the Architect José Maneiras who saw in Architecture the possibility of shaping an increasingly egalitarian society, with access to better and fairer living conditions», according to Docomomo's content proposal.
Born in Macau in 1935 and graduated from former Oporto's School of Fine Arts in 1962, José Maneiras has dedicated his entire professional life to the Macanese territory, before Macau's sovereignty handover and its full integration into the People's Republic of China. The ultimate aim of this short presentation is to reflect critically on how the profession of Architecture can continue to signify change, with a view over the common past.
This engaging event is part of the "Building the 20th Century" lecture series, a project by Docomomo Macau, which commenced in 2022 and continues with this lecture, followed by two more scheduled for November 8th, focusing on the work of "Raul Chorão Ramalho and the Pedro Nolasco School (EPM)", and December 6th, exploring the work of "Oseo Acconci and his architectural contributions".
Ana Vaz Milheiro is an Associate Professor at the Faculty of Architecture of University of Lisbon and an integrated PhD Researcher at DINÂMIA'CET – IUL (ISCTE). The guest speaker has been responsible for research projects focusing on Architecture and Urbanism issues in former Portuguese colonial African countries, and on housing projects by architects working in Macau before the handover. Recently awarded an ERC Advanced Grant 2024-2028, Ana Vaz Milheiro also writes for the Portuguese newspaper "Público" and was Deputy Editor of JA-Jornal Arquitectos, where she wrote about the Architect José Maneiras and Macau.
Rui Leão, Architect, is President of the Docomomo Macau Research Center and President of the International Council of Portuguese-Speaking Architects (CIALP), with a PhD in Architecture and Urbanism at the Royal Melbourne Institute of Technology (RMIT) in Australia. He also works in the editorial area, focused on heritage and urban aspects.
This lecture will be held in English and has been proposed to CAEU for attribution of professional credits (2 credits). Docomomo Macau will charge a fee of 100mop for issuing attendance certificate. Please register on site for certificate request.
Admission is free.
Don't miss it!
For Macau, Further and Higher!
FRC | DOCOMOMO organiza palestra sobre Arquitecto José Maneiras | Telejornal da TDM – Canal Macau de 02.11.2023