Macao's East-West Tourism Economy – 2023.10.10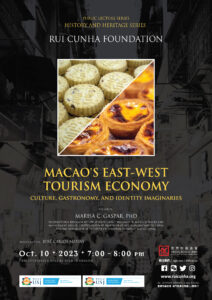 HISTORY AND HERITAGE PUBLIC LECTURES
"Macao's East-West Tourism Economy"

The Rui Cunha Foundation presents tomorrow, Tuesday, October 10th at 7:00pm, a conference on "Macao's East-West Tourism Economy: Culture, Gastronomy, and Identity Imaginaries", inserted in the History and Heritage Public Lectures series, an active partnership between FRC and USJ – University of Saint Joseph, Department of History and Heritage, Macau.
The session will feature guest speaker Marisa C. Gaspar, PhD, Invited Assistant Professor at ISEG, University of Lisbon, Portugal, and Post-Doctoral Researcher at SOCIUS/CSG – Social Sciences and Management at ISEG-UL.
According to the author's proposal, the Macao Special Administrative Region has an important role to play in China's contemporary worldwide economic power history. «Macao has been one of the cities in the world with the highest income generated by the tourism sector. It can thus be said that Macao naturalizes an urban imaginary which corresponds to that of the consumer who seeks a cosmopolitan culture, luxury circuits and goods: the target audience par excellence in achieving China's macroeconomic objectives».
In her ongoing research project, "Feasting and power: the economy of culture in Macao, China", Marisa C. Gaspar seeks to «investigate how Macao's tourism promotion and its East-West identity construction is based on a cultural hybridity, which has led to UNESCO's recognition as tangible and intangible world heritage site and to a destination where gastronomy shines bright. Macao's gastronomic potential for intercultural dialogue, exchange, and the creation of fusion cuisines – like the secular Macanese culinary which still preserves local ancient Portuguese influences – constitutes a significant part of the current political agenda. Cultural hybridity promotion, in general, has thus been developed to diversify tourism economy beyond the gambling sector, and to reflect the city's mixed identity that justifies its role as a platform between China and Portuguese-speaking countries».
This talk will focus on the case study of Macao's membership in the UNESCO Creative Cities Network in the field of Gastronomy, in order to approach public policies for cultural tourism, heritage, and identity implemented in Macao, in line with the Chinese Belt and Road Initiative of economic expansion and creation of global alliances.
The lecture will be held in English with 1 hour duration.
Admission is free.
Don't miss it!
For Macau, Further and Higher!