Opportunities for PSC' Companies – 2023.09.18
Jointly held by Rui Cunha Foundation and Portugal-China Chamber of Commerce and Industry (Macau)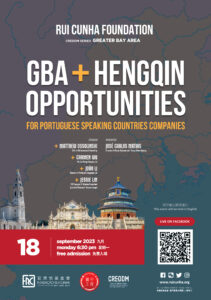 Date: September 18, 2023
Time: 6:30pm-7:45pm
Guest Speakers:
Matthew Ossolinski,  CEO of Hengqin-based GW Investment Consulting;
Evelyn Kong Manager of Pak Lek Group;
João Li Director of Perfeição company Limited;
Jessie Lin C&C Lawyers, Consultant Qualified mainland Chinese lawyer.
Moderator:
José Carlos Matias, Director of Macau Business and Macau News Agency
Topics:
The Guangdong-Macau In-depth Cooperation Zone in Hengqin Two Years After Its Establishment – An Overview
Set of Incentives and Favorable Policies and Measures Adopted for Macau-Based Companies Operating in Hengqin – Breadth and Effectiveness
The First and Second Line – How Much of a Game Changer Will the Second Line of Hengqin Be and the Free Flow of Goods Between Macau and Hengqin?
Mobility of People – Is the First Line a Soft Border? Non-Chinese Nationals' Border-Crossing Mobility
Legal System: Steps Towards the Development of Hengqin's Legal System, Especially in Regards to Commercial Law and Disputes
How Can Hengqin Leverage Macau's Role as a China-PSC (Portuguese-Speaking Countries) Platform?
Specific Favourable Policies and Measures for Investment from Lusophone Companies (Tax Incentives, Other Favourable Measures, HR Recruitment)
Capital Mobility and Repatriation of Profits Prospects
Market Access (Trade of Goods) for PSC Companies
Transportation and Interconnectivity Between Macau, Hengqin, and the Greater Bay Area (GBA) (High-Speed Railway, Airport Connection)
This event will be held in English and entry is free.
This conference is broadcasted on FRC Facebook page.
Don't miss it!
FRC | Empresários reconhecem que desenvolvimento de Hengqin é "notório" | Telejornal da TDM – Canal Macau de 19.09.2023