China and Angola: Understanding a Complex Relationship – 2023.05.22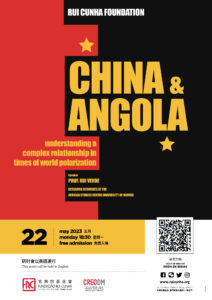 The Rui Cunha Foundation presents on Monday, May 22nd at 6.30pm, a talk on "China and Angola: Understanding a Complex Relationship in Times of World Polarization", with Prof. Rui Verde, Research Associate at the African Studies Centre, University of Oxford.
Since the beginning of the 21st century, China and Angola have established a relationship that has served as a paradigm for the rest of Africa. This presentation starts with a history of the background to this connection, its beginnings and evolution, and focuses on the points that arouse the greatest interest.
They are the economic and financial architecture, the contribution to development, the problems encountered with regard to corruption and illicit appropriation of funds, and the current situation of calibration and response to current challenges, namely, the effects of the Covid-19 pandemic and the burden of debt on Angolan public finances.
The whole relationship has obeyed pragmatic considerations, and Angola and China are in a mutual learning process that is constant.
Rui Verde is an Associate Researcher at the Center for African Studies of University of Oxford, and Legal Editor of MakaAngola. He also serves as Country Leader of the British Academy-sponsored international team to assess public oversight of digital surveillance for intelligence purposes in southern Africa.
Born in Lisbon in 1966, he holds a PhD in Law from the University of Newcastle, United Kingdom and a degree in Law from the Catholic University of Lisbon, Portugal. He is also a Professor at the Indian Management Institute, Delhi, which awarded him an honorary doctorate.
He has been a Visiting Professor in Brazil and Kazakhstan, as well as a Visiting Fellow at Newcastle University. He also taught in London. Previously, he was a Professor of Law in Portugal, where he had been vice-rector of a university and vice-president of another university in Angola. He is co-founder of the Angola Research Network, and also full member of Chatham House (Royal Institute of International Relations).
This talk will be delivered in English. 
Admission is free.
Don't miss it!
For Macau, Further and Higher!