Piano Recital "Music Delight" – 2023.05.20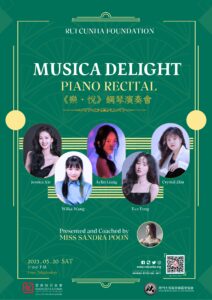 The Rui Cunha Foundation presents today, Saturday, May 20th at 5:00pm, the "Music Delight" Piano Recital, a soirée that will feature the participation of 5 pianists, students of Musical Performance at Beijing Normal University – Hong Kong Baptist University (United International College), under the guidance of renowned local pianist Sandra Poon, President of the Macau Greater Bay Area Music and Art Association, who is co-organizing the event.
The early evening program will last around 1 hour and will include piano solos by Claude Debussy, Ludwig van Beethoven, Wolfgang Amadeus Mozart, Robert Schumann, Franz Liszt, Frédéric Chopin, Robert Muczynski and Chinese composer Zhu Jianer. On stage will star pianists Jessica Xie (謝佩真), Crystal Zhu(朱瀅璇), Wilka Wang (王可), Eve Feng (豐雨果), and Aylin Liang (梁嘉芮).
Sandra Ho-Suet Poon (潘澔雪) was Macau first Young Steinway Artist, a title conferred upon only the best of a generation, based on a program organized by the Concert and Artist Department of Steinway & Sons. They recognize pianists from all genres, today with a list that transcends 2,000 of the most distinguished of all times.
Sandra found her interest in piano at a very young age, and received the Performer's Diploma from the Associated Board of the Royal Schools of Music. Under the sponsorship of the Macau Foundation and Macau Government, she received her Bachelor and Master degrees at Wright State University and University of Cincinnati College-Conservatory of Music, majoring in Piano Performance. Her major mentors include Steinway Artists Eugene Pridonoff (student of renowned Beethoven specialist Rudolf Serkin), Elisabeth Pridonoff, Jackson Leung and Kam Cheok Weng. She also studied Vocals with Diana Cataldi and Harpsichordwith Vivian Montgomery.
Since graduation, she has performed and lectured extensively on seminars in the United States, Europe, and Asia. She was faculty member of the Macau Conservatory School of Music and the Macau Polytechnic University. She is currently teaching at Beijing Normal University – Hong Kong Baptist University(United International College), and serves as guest keyboardist of the Macau Orchestra and the Macau Chinese Orchestra.
Admission is free.
Don't miss it!
For Macau, Further and Higher!
Program – Music Delight Piano Concert – Sandra Poon and Others – 20.05.2023