Eventful Years . Joint Calligraphy and Painting Exhibition – 2023.05.10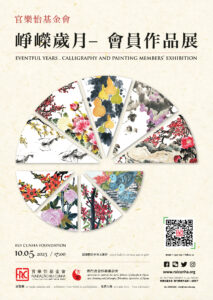 The Rui Cunha Foundation presents today, Wednesday, May 10th at 5:00pm, the Collective Calligraphy and Painting Exhibition "Eventful Years", a joint event with Members of the Arts, Painting and Calligraphy Friendship Association of Macau, curated by Master Lee Chau Ping, who presides over it.
Lee Chau Ping selected 43 artworks created by 28 artists, including masters and apprentices of this traditional Chinese art. The pieces, most of which will be shown for the first time, are mainly all high standard Chinese ink paintings. Themes include flowers and birds, fish and insects, landscapes and elements of calligraphy.
Since its establishment in 2000, the Arts, Painting and Calligraphy Friendship Association of Macau has been committed to promoting artistic activities in Macao. The members' annual collective exhibitions «are the perfect opportunity to unite the centripetal force of the artists involved, allowing for the sharing of different styles of painting and calligraphy, learning, observation, and consolidation of cultural quality. Our Association, which has members all over the world, intends to develop a work that stimulates the associates to cultivate the artistic feeling, enrich the spiritual life and carry forward the traditional Chinese culture», according to the curator's manifesto.
Lee Chau Ping (李秋平), calligrapher and local painter, is known as a disciple of the artistic style of the Lingnan School of Painting. Born in 1959, the artist began his career as an interior designer, graduating from the Hong Kong Institute of Design and Industry. The passion for the arts comes from childhood, having learned Chinese painting and calligraphy under his father's influence, when he was about six years old. His academic path then took him to the world of design and business management. He went on to Canadian Public Royal University, where he earned a Master of Business Administration, and then to Princeton University, where he got his PhD in Management, as well as Renmin University of China, with a degree in Business Administration. At 64 years of age, the artist's tireless spirit is admirable, being also licensed and practicing Chinese Medicine since 1999.
The current exhibition will be open until May 20, 2023.
Admission is free.
Don't miss it!
For Macau, Further and Higher!