Gambling Urbanism, Tourism and Early Modernization in Macau – 2023.05.04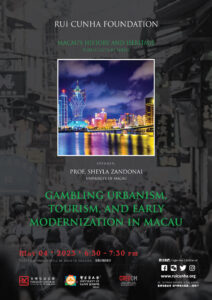 The Rui Cunha Foundation will hold on the 04th of May, at 6.30 pm a talk on Gambling Urbanism, Tourism and Early Modernization in Macau (1900-1930) inserted in History and Heritage – Public Lecture Series, a new partnership between Rui Cunha Foundation and USJ – University of Saint Joseph, Department of History and Heritage.
Abstract
The history of Macau's urban modernization since the advent of a de facto colonial rule in the mid-nineteenth century has been told through the history of infrastructure development (e.g., riverfront reclamation), city remodeling (e.g., urban plans), and architectural style shifts. Less has been said, however, about the ways Macau's history of modernization overlaps with the history of gambling-led urbanization and how it is entangled with the genesis of tourism in Macau proper and southern China at large. This history also appears somewhat disconnected from its spatial existence. Where were located Macau's first gambling-related developments and why? How the transition from the gambling licensing era to the early gambling monopoly years (1930s) has materialized into the cityscape? This talk examines the role of gambling as an incubator of new urban types and forms at the intersection of colonial rationalities and European and Chinese modernities within the larger tourism category in which it is embedded. It argues that Portuguese Macau's modernizing endeavors at the turn of the twentieth century highlight the emergence of gambling as a shaping force over its urban and colonial image.
Speaker
Sheyla S. Zandonai lectures at the Department of History of the University of Macau. She holds a Ph.D. in Social Anthropology and Ethnology from the École des Hautes Études en Sciences Sociales (EHESS). Zandonai is the author of several publications on Macau and the recipient of the 2022 Merit Award for Macau Research in Humanities and Social Sciences (Macau Foundation and Social Sciences in China Press) for her work on the Portuguese calçada (Current Anthropology 2018, with Amaro). Her research has been funded by grants and fellowships awarded by the International Institute of Asian Studies (IIAS), Andrew W. Mellon Foundation, EHESS, Society for East Asian Anthropology, Academia Sinica, University of Macau, Macau Foundation, and the Università Degli Studi di Torino. Her current research interests include urban history, colonial modernity, leisure business, heritage and gambling.
This talk will be delivered in English and the Entry is free.
Don't miss it! For Macau, Further and Higher!