Saturday Night Jazz . "Olá Jazz Guys (HK) + MJPA" – 2023.03.25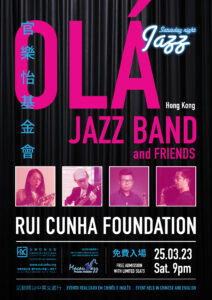 The Rui Cunha Foundation presents this Saturday, March 25th at 9:00 pm, the first Saturday Night Jazz of the year, a concert that will bring the "Olá Jazz Guys (HK) & MJPA" to the FRC Gallery stage to celebrate the reunion of long-time friends.
After 3 awaited years, performers from Hong Kong are back to the series of Saturday Night Jazz. The active guitarist and promoter from Hong Kong, Mark Leung, has founded the Olá School of Music to develop music performance and education at RAEHK. He is also the founder and two-term chairman of the Free Music Association (FMA), and a member of the Composers and Authors Society of Hong Kong (CASH). But mostly, Mark Leung is an old friend of the Macau Jazz Promotion Association, who has also studied with master Zé Eduardo from Portugal. Mark Leung will be joining with guitarist Moon Wong, saxophonists Ginger Keung and Hui Chi Sum.
The musicians from MJPA will be performing on the second half, playing jazz classic standards with a little help from their Hong Kong friends. Led by guitarist Mars Lei, President of MJPA, the session will also feature Ao Chon Fai at the piano, Johnny Yao and Bolo on bass, and Roy Tai on drums.
The Macau Jazz Promotion Association (MJPA), co-organizer of the event since 2014, is formed by jazz lovers who regularly play, teach, and explore the many styles of this musical genre, within a scope of multiple projects aimed at youth and others.
Admission is free.
Don't miss it!
For Macau, Further and Higher!