Nam Van Sound Waves . "Mars Lei Vocal Students Recital" – 2023.03.11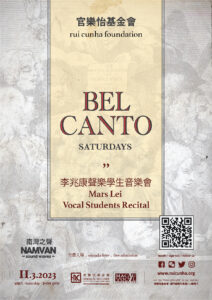 The Rui Cunha Foundation presents on Saturday, March 11th at 5:00pm, the first recital of the year integrated in the musical series "Nam Van Sound Waves", under the title "Mars Lei Vocal Student Concert", co-organized by the Macau Vocal Association.
Macau Vocal Association will bring to the stage of FRC Gallery the voices of sopranos Yu Yan and Baoyi Zhu, students of renowned music teacher Mars Lei, president of MVA, who is also a jazz guitarist, pianist and baritone, a reference in the local art scene. The two students will be accompanied on the piano by Shen Yiran and Zheng Weizhen.
The recital will be based on Bel Canto, presenting a range of European and Chinese works of classical vocal art and opera selections. The program includes themes by composers Giovanni Battista Pergolesi, Wolfgang Amadeus Mozart, Alessandro Scarlatti and Franz Schubert, as well as modern Chinese music by composers such as Wang Long, Jiang Dingxian, Liu Xue'an and Fang Shi. The themes will all be performed in the original languages: Italian, German, and Mandarin.
Yu Yan and Baoyi Zhu are 19 years old and both attend second-year Music Performance course at Beijing Normal University & Hong Kong Baptist University of United International College (UIC) in Zhuhai, a cooperative body between higher education institutions in Beijing and Hong Kong.
Yu Yan began her musical studies at Xin'an Middle School, where she learned from Master Lin Bin. Baoyi Zhu attended Henggang Senior High School in Shenzhen, where she learned under Masters Si Wen and Yang Yawen.
Come and discover the talent of these two female voices.
Admission is free.
Don't miss it!
For Macau, Further and Higher!