Ephemeral Monuments – 2023.02.06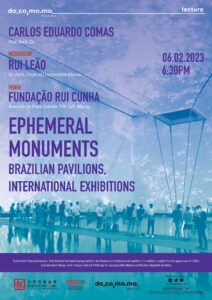 The lecture will review an analysis of the Brazilian Pavilion at Expo2020 Dubai, authored by MMBb Arquitectos, Ben-Avid and JPG Architect, informed by the previous presentation and discussion of its three predecessors considered landmarks of modern Brazilian architecture in the twentieth century: the pavilion at the World Fair of New York 1939, designed by Lúcio Costa, Oscar Niemeyer and Paul Lester Wiener; The pavilion at Expo58 Brussels designed by Sérgio Bernardes; the pavilion at Expo70 Osaka designed by Paulo Mendes da Rocha and team. The comparative analysis of the four works as ephemeral monuments celebrating national culture in a landscape International allows to list common themes and their variations, allowing to specify historiographic classifications from the recognition of the persistence in Brazil of the formal system of modern architecture, while pointing out the aesthetic limitations of a hypertrophy of visuality in architecture.
Today at 6:30pm join us at Rui Cunha Foundation for the first Docomomo Lecture of 2023 with Prof. Arch. Dr. Carlos Eduardo Comas.
This session will be live on Rui Cunha Foundation and Docomomo Facebook pages from 6:45pm.
Don't miss it!