"The pure in Golden Age" – Exhibition by Natalie Lao – 2023.01.10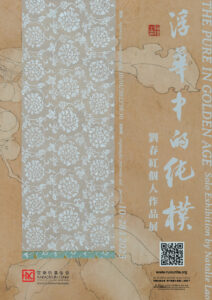 The Rui Cunha Foundation presents on Tuesday, January 10th at 6:30pm, the opening ceremony of Solo Exhibition "The Pure in Golden Age", by Natalie Lao, who brings to the gallery walls 19 paintings on silk and paper that recreate an oriental influenced style with a contemporary focus.
Natalie Lao «uses different image elements in her works to express her views on the impermanence and change of things in the world, while warning herself not to be too forceful and persistent», reveals the project's information. According to the artist, «contradictory design concepts have always been a source of inspiration for her creations».
«The fine brushwork imitates the pattern of silk cloth and she applies it to her paintings. The visual overlap of two different elements makes people understand the primary and secondary relationship at work. Thinking and perfectly conveying ideas, she uses visual hallucinations to awaken people for a discussion about the truth and falsehood of what they see. A curtain or a silk fabric can play a role in covering objects. When she uses these imagery symbols, it is also for the sake of expressing the contradictory relationship going on in her heart: one that she hopes others will read and understand, but at the same time she fears for the impact of being noticed», according to the same text.
Born in Heshan County, south of Guangdong Province, Natalie Lao graduated in 2016 from the Macao Polytechnic University, completing the Higher School of Visual and Fine Arts' Bachelor Degree Program (Fine Arts majoring in Chinese painting). In 2017 she entered an advanced training course on Flower and Bird Painting Themes at Guangzhou Academy of Fine Arts. She is currently the Deputy Chairman and Executive Director of Macao Yiyuan Painting and Calligraphy Association, and the Vice Chairman of Hao Jiang Printing Society.
The artworks will be on display at the FRC Gallery until January 28, 2023.
Admission is free.
Don't miss it!
For Macau, Further and Higher!