"Embracing the World" – Exhibition by Lok Hei – 2022.12.12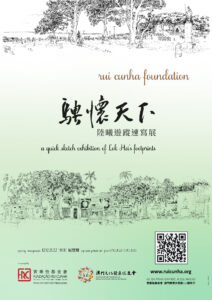 The Rui Cunha Foundation presents on Monday, December 12th at 6:30pm, the opening ceremony of "Embracing the World", a Quick Sketch Exhibition of Lok Hei's Footprints, the celebrated local artist who will display 23 serigraphed prints and 2 original drawings of places he visited in his contemplative search for the beauty and serenity of landscapes and scenery around the globe. The project is supported by the Macau Culture Development Promotion Association.
Comprising 25 artworks, this exhibition reveals how, in the words of Legislative Council's Deputy and Master of Arts Chan Ho Sing, «the brush of the artist covers the beautiful mountains and rivers of our motherland. And the valleys and waterways in the foreign lands. He is full of appreciation, praise, and blessings. The feelings are simple and sincere, without boundaries».
«Traveling is a form of life for people», he says, and «good memories are also a source of joy. The exhibits include scenes familiar to you and me, such as sceneries of Macau, the Forbidden City in Beijing, the landscape of Guilin, the Mausoleum of Yellow Emperor in Shaanxi, Zhujiajiao in Shanghai, Nyingchi in Tibet, the Town of Furong in Hunan, St. Petersburg in Russia, Porto in Portugal, Venice in Italy, Okinawa in Japan, etc». For Chan Ho Sing, «images are delivered to the audience's eyes as if one belongs in it. And each can fill in the colors freely in their minds», he concludes.
Lok Hei was born in Macau and has worked in advertising design and exhibition planning for many years. He is currently the Director of China Artists Association, President of the Macau Artist Society, Director of the China Association for Preservation and Development of Tibetan Culture, standing Director of Guangdong's Association for Promotion of Cooperation Between Guangdong, Hong Kong & Macau; and Chairman of the Macau Culture Development Promotion Association. He has held "Lok Hei, Ng Wai Kin Fine Arts Exhibition" in Hong Kong and Macau; and "Lok Cheong, Lok Hei, Ng Wai Kin Fine Arts Exhibition" in Portugal. His publications include "Doors in Black and White – Lok Hei Sketch Collection"; the Manuscript of "Taijiquan Interpretation"; and the 100-meter picture scroll of "Macao Back To Common Roots".
The artworks will be on display at the FRC Gallery until January 7, 2023.
Admission is free, but subject to compliance with current health measures.
Don't miss it!
For Macau, Further and Higher!
Folha de Sala EN – Lok Hei – Embracing the World – Sketch Exhibition Footprints – 07.12.2022