"Macau's Economy: The way forward" – 2022.09.27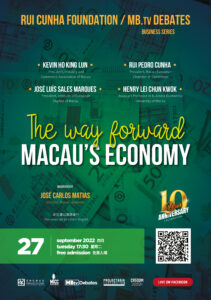 The Rui Cunha Foundation and MBtv Debates present on Tuesday, September 27th at 5:30pm, a conference entitled "Macau's Economy: The way forward", inserted on the MBtv Business Series cycle.
After nearly three years of COVID-19 restrictions, Macau's economy is struggling to recover. As companies and society look forward to the desired post-pandemic normality, the Rui Cunha Foundation, in partnership with the Macau News Agency and Macau Business, invited a distinguished panel of business leaders and experts to reflect together on the best path to local economic resurgence.
Kevin Ho King Lun, President of the Industry and Commerce Association of Macau, Rui Pedro Cunha, President of the Macau European Chamber of Commerce, José Luís Sales Marques, President of the Institute of European Studies of Macau, and Henry Lei Chun Kuok, Professor of Business Economics at the University of Macau, will set the stage for a debate on what is undoubtedly the current topic in Macau.
The session will be moderated by the Director of Macau Business, José Carlos Matias.
This conference will be held in English and broadcast live on the FRC and MBtv Facebook pages.
Admission is free.
Don't miss it!
For Macau, Further and Higher!