Nam Van Sound Waves . "Bel Canto Saturdays" – 2022.10.08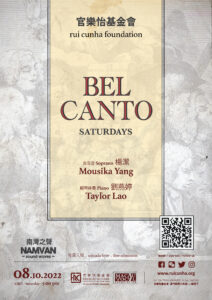 The Rui Cunha Foundation presents on Saturday, October 8 at 5:00pm, a "Bel Canto Saturdays" recital, as part of the tea-time music concert series "Nam Van Sound Waves", featuring the voice of Soprano singer Mousika Yang (楊潔) accompanied by pianist Taylor Lao (劉燕婷). The session is co-organized by Macau Vocal Association.
The program includes arias from operas by Italian composers Giovanni Battista Pergolesi and Giuseppe Verdi, or the Austrian Wolfgang Amadeus Mozart, as well as musical pieces by Italian and Chinese composers Giulio Caccini and Zhu Jiaqi. All selected pieces will be performed in the original language.
Soprano Mousika Yang graduated from the Wuhan Conservatory of Music in June 2012, majoring in Music Performance. In May of the same year, she performed solo on her graduation concert at the Chime Bell Concert Hall of Wuhan Conservatory of Music and won that year the Golden Award of the Shihua Cup Bel Canto Group. After graduation, she dedicated herself to a music education career. While teaching for ten years, her students went on to be admitted to the Wuhan Conservatory of Music, the Central China University Conservatory of Music, and other higher music institutions.
Bel Canto is considered the maximum expression of the human voice. The Italian term was coined in the 18th century. This vocal technique emphasizes the beauty of sound and the technical capacity of the artist, instead of the dramatic expression or romantic emotion, being still taught today in a similar way as in the past.
Admission is free.
Don't miss it!
For Macau, Further and Higher!
Program – Nam Van Sound Waves . Bel Canto Saturday – 08.10.2022