"Together in Solidarity Against the Epidemic" – 2022.09.14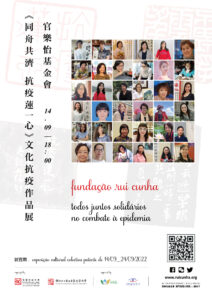 The Rui Cunha Foundation opens on Wednesday, September 14th at 6:00pm, a Collective Cultural Exhibition, under the title "Together in Solidarity Against the Epidemic", co-organized by the Macau Women's Calligraphy, Painting and Seal Carving Association. The selection gathers 45 themed artworks curated by President Hong San San Rodrigues (洪珊珊) and Chairman Ng Choi Ha (吳彩霞).
The pieces on display were made by more than 30 calligraphers and painters during the recent pandemic outbreak in Macao, who dedicated themselves to their art while enduring the period of mandatory confinement. Strict compliance with the guidelines implemented by local Authorities, aiming to protect the local population and to prevent the progression of the virus, motivated these women artists to recognize and honor the essential role of professionals and volunteers involved in the joint effort.
«In the Summer of 2022, the coronavirus epidemic returned and Macau experienced an unprecedented severe outbreak. The citizens of Macau were united in this struggle, firmly complying with the Macao SAR Government for the sake of stability and working together to overcome difficulties until the city could return to normal», reads the exhibition manifesto.
According to the Association, during the lockdown the artists were able to «expand their creativity and inspiration and produced more than 40 works of calligraphy, painting and stone seal carving. Such a contribution to celebrating the heritage of traditional Chinese culture was also a tribute to all the people who served on the front lines, such as the medical teams, the security forces and the many volunteers».
The exhibition can be visited at FRC Gallery until September 24th, 2022.
Don't miss it!
For Macau, Further and Higher!