Saturday Night Jazz . "Lazy Jones & Wonderwall Sextet" – 2022.08.27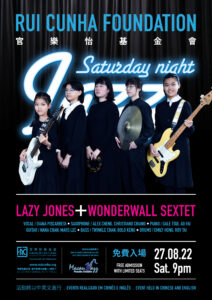 The Rui Cunha Foundation presents on Saturday, August 27th at 9:00pm, the popular monthly Saturday Night Jazz concert with the "Lazy Jones & Wonderwall Sextet", two groups that were scheduled to perform at the end of June, but could only now make it to the stage of FRC Gallery, after the easing of anti-Covid19 restrictions.
The Lazy Jones is a young female quintet, guided by drummer Carmen Ip, that branches out from the Macao Youth Jazz Orchestra, one of the important learning projects of professional musicians from the Macao Jazz Promotion Association (MJPA), many of which are teachers of this new generation.
The five young women created a promising group that shows great potential with the selection and interpretation of the repertoire, ranging from the classics of Bossa Nova to the Bebop style. The voice of Diana Piscarreta, who has previously performed with the MJPA band at the FRC Gallery, is joined by the guitar and bass of sisters Nana Chan and Twinkle Chan, the piano of Gale Tsui and the drums of Emily Hong.
The second part is dedicated to the Wonderwall Sextet, made up of the experienced members of MJPA, such as Mars Lei on guitar, Ao Fai on piano, Alex Cheng and Christiano Chiang on saxophone, Bolo Keng on bass and Roy Tai on drums, among others, with a selection of classic jazz standards. The group's name comes from the Wonderwall Coffee, where their weekly jam session takes place.
The Macau Jazz Promotion Association (MJPA), co-organizer of Saturday Night Jazz with the Rui Cunha Foundation since 2014, is a non-profit local arts association, created in 2010. The aim of MJPA is to promote jazz music to Macau's audience and to provide opportunities for local musicians, thus bringing out the multicultural characteristic of the territory.
Admission is free, but subject to health recommendations and crowd limitation implemented by local authorities. Due to instructions recently issued by the Cultural Affairs Bureau, now in force, no beverages will be served during the 15-minute concert intermission. We apologize for the inconveniences.
Don't miss it!
For Macau, Further and Higher!