"Lee Chau Ping and Students" . Calligraphy and Painting Exhibition – 2022.06.15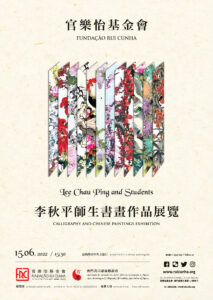 The Rui Cunha Foundation opens on Wednesday, June 15th at 3:30pm, the Calligraphy and Painting Exhibition "Lee Chau Ping and Students", a joint exhibition by the Master and 43 apprentices who participate in his classes, workshops and art activities, regularly organized by the Arts, Painting and Calligraphy Friendship Association of Macau, of which he is President.
The exhibition showcases 44 art pieces, one for each participant, that reflect Lee Chau Ping's concern in «promoting the Chinese calligraphy and painting culture, as well as art, with the aim of bringing together all enthusiasts of its essence, so that members can research, learn and observe one another during these activities», according to the event manifesto.
The purpose of the exhibition is also «to provide a platform where students can display their paintings and calligraphy. It is as well a good opportunity to allow pupils to communicate, to create and to practice art, cultivating cultural literacy, encouraging feelings, enriching their spiritual life, and carrying forward the Chinese culture and traditions to be passed on from generation to generation», expects the Master.
Lee Chau Ping (李秋平), calligrapher and local painter, is known as a disciple of the artistic style of the Lingnan School of Painting. Born in 1959, the artist began his career as an interior designer, graduating from the Hong Kong Institute of Design and Industry. The passion for the arts comes from childhood, having learned Chinese painting and calligraphy under his father's influence, when he was about six years old.
His academic path then took him to the world of design and business management. He went on to Canadian Public Royal University, where he earned a Master of Business Administration, and then to Princeton University, where he got his PhD in Management, as well as Renmin University of China, with a degree in Business Administration. At 63 years of age, the artist's tireless spirit is admirable, being also licensed and practicing Chinese Medicine since 1999.
The current exhibition will be open until June 25th, 2022.
Admission is free.
Don't miss it!
For Macau, Further and Higher!
.