"METROPOLIS" . Painting Exhibition – 2022.05.31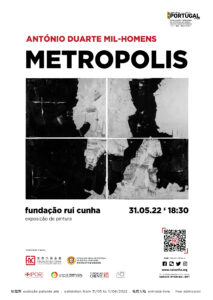 The Rui Cunha Foundation opens on Tuesday, May 31st at 6:30pm, the Painting Exhibition "METROPOLIS" by António Duarte Mil-Homens, a well-known photographer in Macau, who began his career as a painter in 2020 and has presented that year, for the first time, his works of monochromatic painting to the local public.
The "METROPOLIS" Exhibition also opens the festivities within the program "JUNE, MONTH OF PORTUGAL – Celebrations of June 10th: Day of Portugal, of Poet Luís Vaz de Camões and of the Portuguese Communities". This grand annual event, co-organized by the Consulate General of Portugal in Macau and Hong Kong, the Portuguese Institute of the Fareast, AICEP – Portuguese Agency for Investment and Foreign Trade, the House of Portugal and the Orient Foundation, is furthermore supported by the Rui Cunha Foundation.
This exhibition by António Mil-Homens presents the artist's most recent works, in a total of 15 monochromatic black and white acrylic paintings on canvas. On the last days before leaving the Territory, the artist thus casts «a far sight, mainly from above, of our cities and environment», he says in his manifesto.
«In time to turn another page on the history of my life, this exhibition takes place more than 26 years after I first came to Macau and ends a stay of around 15 years. I don't see it as a goodbye. Instead, as one until forever, in which the logic of this same constancy is inverted. I reiterate my invitation for you to keep, if you like, these pieces inspired by the territory and circumstances. They will be another stone in the construction of future projects», he adds.
António Duarte Mil-Homens was born in Lisbon, on October 9, 1949. He began to photograph in 1974 as a self-taught artist, becoming a full-time professional in 1984. His experience covers almost all areas, from advertising to scientific photography, having also shared his skills in the organization and lecture of 52 Photography Courses, along with several Workshops, since 1989. His curriculum includes 22 individual photography exhibitions and participation in 30 collective photography and art exhibitions. Awarded by several contests, he was also part of the Jury in others. His work with images has already been published in dozens of books. And writing, essentially Poetry, is one more area with some expression on his creative activity.
The paintings will be on display at FRC Gallery until June 11, 2022.
Don't miss it!
For Macau, Further and Higher!