"Art and Rebirth" – Inmates and Juvenile Delinquents' Handicrafts Showcase – 2022.05.24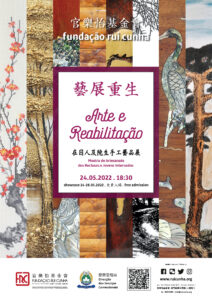 The Rui Cunha Foundation and the Correctional Services Bureau (CSB) open today, Tuesday, May 24 at 6:30pm, the Inmates and Juvenile Delinquents' Handicraft Showcase, entitled "Art and Rebirth", which presents the result of manual arts work carried out within the scope of programs for learning, recovery and future reintegration of the incarcerated population into society.
The 31 handicrafts on display include oil paintings, Chinese landscape paintings, paper-cut compositions, cross-stitch embroidery, bamboo, wooden and mother of pearl shell sculptures, felt and cotton fabric, domestic utensils, among others.
According to the Cheng Fong Meng, Director of the CSB, this institution «hopes with such initiative to build a bridge with the outside world, so that inmates and young internees can communicate through their work and the public may acknowledge their determination in the face of change and their learning efforts. In addition to the Correctional Services support toward inmates and their families, public acceptance and the strength of local community is fundamental in encouraging them to build a new life».
The Rui Cunha Foundation once again demonstrates its cultural and social mission, represented in all important collaborations with Government bodies, when it comes to promoting the well-being and the learning skills of local population through the arts. This showcase is an example of such and most of the pieces will be on sale for charitable purposes.
The art pieces will be on display until May 28, 2022.
Don't miss it!
For Macau, Further and Higher!