Gastronomy & Cinema . "Cook Up a Storm" (2017) – 2022.05.17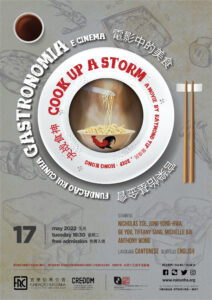 The Rui Cunha Foundation presents on Tuesday, May 17 at 6:30pm, the third of a series of six films dedicated to the theme of Gastronomy and Cinema, entitled "Cook Up a Storm", from 2017, signed by Hong Kong director Raymond Yip Wai-Man (葉偉民). This session will not have a previous presentation.
The film is a comedy-drama starring Hong Kong star Nicholas Tse and South Korean pop icon Yong Hwa Jung. The actors bring to life two talented chefs: one who is famous for his Cantonese street food and the other a renowned Michelin Star Chef, who was trained in France. Coincidentally, both become finalists in an important cooking contest, turned into a real battleground between the two competitors.
Despite the differences, the active rivalry is completely altered when, upon discovering a common enemy, they decide to combine all their talents, opening space for an understanding that will result in a fusion between East and West.
"Cook Up a Storm" is the film version of the well-known reality show "Chef Nic", having been partially filmed at the Studio City Hotel, at Macau City of Dreams, and the iconic Golden Reel, the tallest Ferris wheel in Asia.
During filming, the protagonists also had the opportunity to be inspired by some of the chefs of local Michelin restaurants, namely Chef Tam Kwok Fung, Director of Culinary Operations at Studio City, and Chef Guillaume Galliot, Chef de Cuisine at Tasting Room Restaurant., all part of the integrated resort of City of Dreams, which ended up being the ideal setting for the making of this movie.
The film is spoken in Cantonese, with English subtitles.
Not suitable for children under 13 (Group B).
Admission is free, but subject to limited seating.
Don't miss it!
For Macau, Further and Higher!