"Convergence and Integration of Legal Systems in Hengqin (…)" – 2022.04.28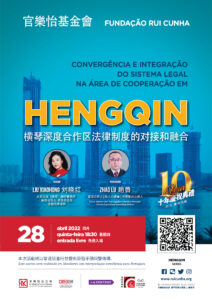 The Rui Cunha Foundation presents on Thursday, April 28 at 6:30pm, the conference "Convergence and Integration of Legal Systems in Hengqin Deep Cooperation Zone", as part of a new cycle dedicated to this important area of cooperation with Macau. The first session will be attended by Ms. Lio Xiaohong, Senior Partner at Dentons, a law firm in Hengqin. Moderating the conversation will be Mr. Zhao Lu, Senior Partner at C&C Lawyers, in Macau.
The Greater Bay Area of Guangdong-Hong Kong-Macau (GBA) is one of the most strategic projects for the future development of the People's Republic of China, which alone accounts for 12% of China's gross domestic product. This is a project that aims to attract talent, companies and investment from other regions of China, but also from abroad, a fundamental aspect to cement the region's status as a leader in innovation.
Macau has a fundamental role in the project, a role that is associated not only with its profile and status as an international tourism center, but above all as a platform between China and Portuguese-speaking countries.
In this context, the newly created Deep Cooperation Zone between Guangdong and Macau in Hengqin signals a qualitative leap of the MSAR's role in the construction process of the Greater Bay. With a market of more than 100 million people and physical space to grow (Hengqin), this is a fantastic opportunity for Macau to expand and consolidate in the regional arena, catapulting the territory towards the much-desired economic diversification.
Given the potential for business and investments, it is important to understand which legal system is best suited to accomplish those objectives. Will Macau Law expand to HengQin? Or will the Chinese Law remain in force?
As HengQin is part of a project to integrate the Macau Special Administrative Region into the Greater Bay Area, it will be interesting to acknowledge the points of convergence in both legal systems. This is the motto for the series of thematic conferences that Rui Cunha Foundation aims to organize periodically, in order to broaden the reflection and to contribute for the construction of the future legal system in HengQin.
The conference will be held in Mandarin, with simultaneous interpretation into Portuguese and Cantonese.
Admission is free, subject to room capacity.
Don't miss it!
APRIL, TIME TO CELEBRATE
For Macau, Further and Higher!
VIDEO – PORTUGUESE VERSION
VIDEO – CHINESE VERSION