" Rodrigo Leal de Carvalho: The Man and the Literary Work " – 2022.04.27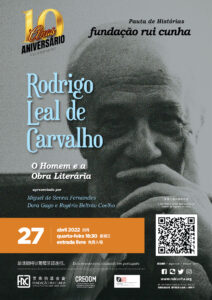 The Rui Cunha Foundation presents on Wednesday, April 27 at 6:30pm, the conference "Rodrigo Leal de Carvalho: The Man and the Literary Work", in partnership with the Macau Bookworms Association. The event will feature guest speakers Miguel de Senna Fernandes, Rogério Beltrão Coelho and Dora Gago, with the moderation in charge of Shee Va. 
During the 10th Anniversary Celebrations' month, we highlight the Foundation's mission of contributing to the development of the Territory's legal and cultural identity, by focusing on this illustrious man of Macau's law and culture, who lived and worked here for about four decades, although not continuously. 
Rodrigo Leal de Carvalho first served as a Public Prosecutor's Office, followed by a second stay as a Judge. He returned to Macau for the third time as Public Prosecutor, later with the designation of Deputy General Prosecutor. In 1996 he was appointed President of the Court of Auditors, a position he held until the Macau Government handover to the People's Republic of China, before returning to Portugal in 1999. 
Regarding other personal creative ambitions, Rodrigo Leal de Carvalho only made his literary debut in the 1990s, having been, since then, quite productive in his literary career. With the release of his first novel, entitled "Requiem por Irina Ostrakoff" (1993), he has soon demonstrated his potential as a writer. Awarded with the Camilo Pessanha Prize 1993, attributed by the Orient Portuguese Institute (IPOR), he would have this work also published in Chinese, in 1999. 
The book "Os Construtores do Império" was published in 1994, shortly followed by two new novels in 1996: "A IV Cruzada", in which the author partly assumes himself as the protagonist, and "Ao Serviço de Sua Majestade". In 1999 he published "O Senhor Conde e as Suas Três Mulheres". With fine irony and delicacy, Rodrigo Leal de Carvalho revealed to be an excellent writer of Macau memories and the universe of Portuguese public service overseas, from the 1950s and 1960s, recreating environments and experiences witnessed by himself, and properly framed in the panorama of the 20th century world. His work came to the attention of investigators such as David Brookshow and Lee Shuk Yee. 
This session will be held in Portuguese, without interpretation. 
Admission is free, subject to room capacity. 
Don't miss it! 
APRIL, TIME TO CELEBRATE 
For Macau, Further and Higher! 
.