Gastronomy & Cinema . "Tampopo" (1985) – 2022.04.19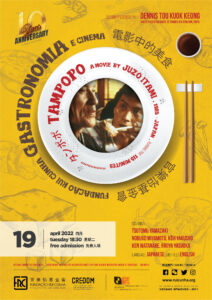 The Rui Cunha Foundation presents on Tuesday, April 19 at 6:30pm, the second of a series of six films dedicated to the theme of Gastronomy and Cinema, entitled "Tampopo" from 1985, signed by the Japanese director Jûzô Itami. The screening will be preceded by a short presentation by Chef Dennis Tou Kuok Keong, in charge of the Ramen Restaurant "Sio Seng Hin", Taipa.
Winner of several national and international awards, "Tampopo" is an elegant Japanese comedy in which the culinary art plays an important role in connecting different plots.
The main story revolves around two friends: a truck driver and his partner. One day they stop at a restaurant and are faced with one of their worst tasting experiences: an unpalatable Ramen (noodle soup), made by the owner, Tampopo (Nobuko Miyamoto).
Tampopo is a nice widow who, faced with her culinary failure, asks them for help to improve her cooking method. That's when she starts a real journey through several restaurants, researching, investigating and discovering secrets in order to make the perfect Ramen.
Parallel to the saga of Tampopo and his friends, other small narratives are presented, always unfolding around food and its rituals, with special emphasis on the sensory relationship between people and nourishment, highlighting its importance in Japanese culture and society.
The film is spoken in Japanese, with English subtitles.
Restricted to minors under 13 (Group C).
Admission is free, starting at 6:00pm, but subject to limited seating.
Don't miss it!
APRIL, TIME TO CELEBRATE
For Macau, Further and Higher!