"Delightful Sound" . New Year Recital – 2022.01.15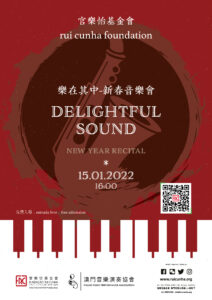 The Rui Cunha Foundation presents on Saturday, January 15, 2022, at 4:00pm, the youth piano and saxophone recital "Delightful Sound", a concert to mark the arrival of the Lunar Chinese New Year, with the participation of 19 students of the Macao Music Performance Association.
The initiative, under the guidance of teachers Amy Cheng and Vicky Tong, will last about an hour, and the program includes various themes that range from classical, baroque, romantic and modern music. Students, aged between 4 and 18, will perform pieces by composers such as George Frideric Handel, Johann Sebastian Bach, Edvard Grieg, John Thompson, Friedrich Burgmüller, Ailbhe McDonagh, Franz Schubert, Alan Bullard, Ronald Caravan, Rob Buckland, Pyotr Tchaikovsky, Christopher Norton, Carl Czerny, Muzio Clementi, Frédéric Chopin, Wolfgang Amadeus Mozart, Pierre Max Dubois or Heather Hammond, among others.
The Macao Music Performance Association is a non-profit organization whose mission is «to provide performance opportunities for young musicians in Macao, as well as educate young audiences about music». The aim of the "Delightful Sound" event is to deliver a window of visibility «so that these young students can demonstrate their art and talent in a public space», states the Association's proposal.
Admission is free, but subject to capacity limitations, in line with health recommendations implemented by local authorities.
Don't miss it!
For Macau, Further and Higher!
Program_DelightfulSound_Recital_15Jan2022