The Currency of the Revolutionary Base – 2021.12.14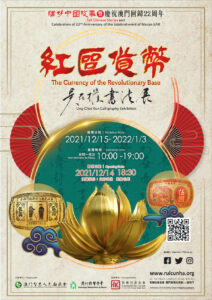 The Rui Cunha Foundation inaugurates on Tuesday, December 14th at 6:30pm, "The Currency of the Revolutionary Base" Calligraphy Exhibition by Ung Choi Kun, President of the Macau Wisdom Humanities Encourage Political Association, which co-organizes the event with the Macau Numismatic Association and FRC.
The renowned master calligrapher Ung Choi Kun brings to this exhibition around 50 valuable collectible bill notes from the historical period prior to the establishment of the People's Republic of China in 1949, combined with explanatory calligraphy paintings. The aim is «to reproduce the difficult environment and struggle spirit of the Communist Party of China under the tight economic blockade from the enemy in an innovative form», according to the artistic manifesto.
The exhibition also intends to «promote the understanding of the history of the PRC among the citizens of Macau, in order to carry forward the spirit of the old community bases, perpetuate the revolutionary blood, inherit the Chinese culture, encourage young people to take great rejuvenation of the Chinese nation as their mission, maintain Macao's long-term prosperity and stability as their own responsibility, and forge ahead a commitment to strong unity», states the same message of intent.
This initiative is a rare opportunity to appreciate the note bills that circulated, as an unofficial trading currency, among the various bases of popular resistance that joined the revolution against the Nationalist Government of the Kuomintang. These collectibles will now be shown to the public, from a selection made with the support of the Macau Numismatic Association and some personal rarities by Ung Choi Kun.
The exhibition will be open until January 3rd, 2022. Admission is free, but subject to capacity limitation, according to the health recommendations implemented by the local authorities.
Don't miss it!
For Macau, Further and Higher!