MB.tv Debats "Digital Currency" – 2021.11.24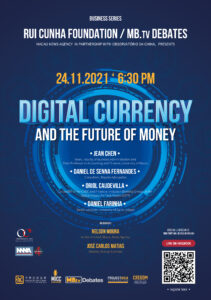 A Fundação Rui Cunha e a MBtv Debates realizarão, no próximo dia 24 de Novembro, pelas 18h30 horas, uma conferência intitulada Digital Currency and the Future of Money Inserida no ciclo Business Series da MBtv.
A revolução da moeda digital está a em preparação. A China está a avançar com o Pagamento Electrónico de Moeda Digital (DCEP) e Macau planeia reformas no quadro legal do sistema financeiro local para abraçar a moeda digital.
Enquanto a Macau News Agency (MNA) celebra o seu 4º aniversário, a Macau Business/MNA e a Fundação Rui Cunha reúnem em parceria com o Observatório da China um painel de peritos para discutir o impacto deste processo de transformação.
No auditório da Fundação Rui Cunha, teremos os oradores: Jean Chen, Dean Faculty of Business Administration and Chair Professor in Accounting and Finance, University of Macau, Daniel de Senna Fernandes, Consultor Riquito Advogados e Daniel Farinha, docente, Universidade de São José; de Hong Kong, via zoom, contaremos com a participação de Oriol Caudevilla, vice-presidente da CBDC e Grupo de trabalho de inclusão financeira no Global Impact Fintech Forum (GIFT).
A sessão será moderada por Nelson Moura e José Carlos Matias
Digital Currency and the future of Money é o que a MBtv se propõe debater, quarta-feira, 24 de Novembro, pelas 18h30 horas, no auditório da Fundação Rui Cunha, numa parceria entre a Fundação Rui Cunha, a Macau News Agency, Macau Business e Observatório da China.
Esta conferência será transmitida em directo na página da FRC no Facebook, e na página da MBtv no Facebook.
A sessão será realizada em língua inglesa.
Caso não consiga assistir ao vivo e pretenda participar na parte de perguntas e respostas, por favor registe-se no zoom webinar, através do link https://zoom.us/webinar/register/WN_vs3C7oGGRMSG2Qnxg9RS6g
A Entrada é livre
Contamos consigo!
Por Macau, mais e melhor!