Macau Vocal Festival . "Potion and Poison in Opera" – 2021.11.20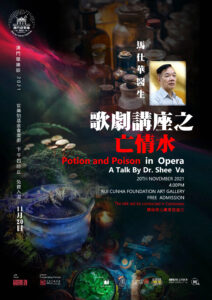 The Rui Cunha Foundation will host on Saturday afternoon, November 20th at 4:00pm, a musical lecture entitled "Potion and Poison in Opera", presented by doctor and music critic Shee Va, as part of the Macau Vocal Festival 2021 program.
Being a medical specialist in gastroenterology, the speaker will introduce the concepts of potion and poison that have intoxicated the entrails of the many operas over time, ending up in salvation or in death, sometimes with other unexpected effects. Examples of such librettos will be displayed and there will be live music to illustrate this talk.
The session will be conducted entirely in Cantonese.
Admission is free, subject to the capacity of the FRC Gallery room.
Don't miss it!
For Macau, Further and Higher!