"Literati Elegance III – Porcelain Scholar's Objects Introduction" – 2021.11.26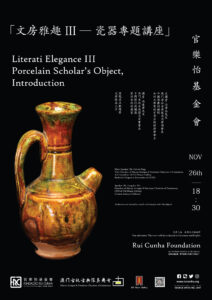 The Rui Cunha Foundation and the Macau Antique & Furniture Chamber of Commerce will host the "Literati Elegance III – Porcelain Scholars' Objects Introduction" series at the FRC Gallery by 6:30 pm on November 26, 2021 (Friday).
During this introduction, speakers Catherine Fong and her father Fong Lin Wa will share their experience and knowledge with the audience on the culture and history regarding 4 rare porcelain objects, such as a "Qingbai" melon-shaped Dropper Jar; a "Jun" Tripod Incenser; a "Famille-Rose" Brush Pot and a "Famille-Rose" Four Panel Table Screen with the "Wang Xi Liang" seal mark. There will also be an interactive part where the audience is invited to observe and touch the objects directly and physically experiencing the beauty of these antique pieces.
The event takes place after two previous editions, held at FRC in August 2020 and April 2021, under the titles "Literati Elegance I – Wooden Scholars' Objects" and "Literati Elegance II – Jade Scholar's Objects". These lectures' mission intends to disseminate knowledge on subjects of recognized historical and cultural interest, towards a wider audience within the local communities.
The conversation regarding the porcelain objects will present clues for understanding the intellectual curiosity and aesthetic sensitivity of this class of scholars, through some objects from private collections, which allow us to contemplate the beauty of porcelain and recover some memories of the past.
«Literati in Song Dynasty believed that "a study room is not elegant without porcelain". Ceramics is a man-made product, which reflects the objective world as well as people's subjective consciousness. Ceramic art decoration reveals people's natural taste, imagination, emotions and ideals. It exquisitely expresses the thoughts of harmony and unity between human and nature, in China, since ancient times», recommend the hosts.
Fong Lin Wa is Chairman of the Macau Antique & Furniture Chamber of Commerce and the CEO of Old House Gallery. He is a senior collector of Chinese antiques in Macau and has over 30 years of experience in the Chinese antique furniture and art pieces industry. Catherine Fong is Member of the Board of Supervisors of Macau Antique & Furniture Chamber of Commerce, as well as General Manager of Old House Gallery, with a master degree in Art Business at Tsinghua University & Sotheby's Institute of Art.
Macau Antique & Furniture Chamber of Commerce is a non-profit organization with the purpose to encourage the development of the antiques and furniture industry in Macau. It also aims to promote Chinese art culture and to strengthen an effective communication and professionalism within the industry. It serves as a bridge to connect the local and foreign art lovers and collectors together.
The event will be conducted in Cantonese with simultaneous interpretation in English.
Admission is free. In order to comply with the current health measures, there is limited seat capacity.
Don't miss it!
For Macau, Further and Higher!