SUSPENSION OF ACTIVITIES AT FRC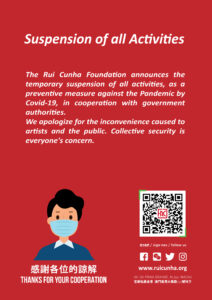 The Rui Cunha Foundation announces a temporary suspension of activities, as part of the collective effort to prevent the Pandemic by Covid-19 in cooperation with the Government authorities.
Therefore, the following events will not take place: the screening of "Chasing Trane: The John Coltrane Documentary" (2016), presented by Mars Lei, scheduled for today, Saturday, September 25th at 17:00, is canceled. Also, the enrollment for the "Initiation to Portuguese Intensive Course – Level 1", scheduled for October 9th, is now suspended.
Regarding other activities scheduled for next week, we will inform the public in due course, taking into account the evolution of the Pandemic situation and following Government recommendations.
Stay safe and carefully observe the guidelines of the Macao Health Services Bureau.
For Macau, Further and Higher!