Macao in the Movies . "Isabella" (2006) – 2021.09.14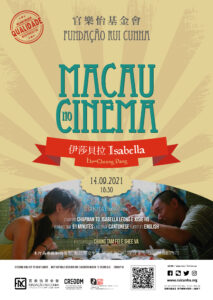 The Rui Cunha Foundation presents on Tuesday, September 14th at 6:30pm, the seventh film under the series "Macao in the Movies", with the title "Isabella", directed by Pang Ho-Cheung in 2006, a production from Hong Kong that takes place in Macao.
It is the summer of 1999. The Administration of Macau will soon be handed over to China. In order to make a good impression, during the transferring of sovereignty, the Territory Government is engaged in a strong anti-corruption campaign.
Shing (Chapman To) is one of many police officers under investigation. Temporarily suspended and living in a less dignified condition, Shing takes refuge in promiscuous relationships with different prostitutes.
An odd thing happens one morning when he wakes up: he finds Yan (Isabella Leong) in his apartment telling him that she is his daughter, whom he didn't know he had. Yan appears in Shing's life when, with no money to pay rent, she is forced to leave her apartment after her mother's death. Meanwhile, Yan is desperately looking for her dog Isabella.
Shing helps Yan and takes care of her from that day on. At first, Shing's bachelor habits conflict with his new role as a father, but over time the two manage to establish a relationship of affection and mutual respect, haunted by the likely condemnation he will face. Given this, should Shing flee the country with her daughter? And, more importantly, did he actually spend the night with Yan?
Premiered in Hong Kong on April 2006, "Isabella" was screened at the Berlin Festival, where it won the Golden Bear for Best Soundtrack, with the renowned song "Ó Gente da Minha Terra" (Oh People of My Homeland), performed by Portuguese fado singer Mariza.
The session will be preceded by a short presentation by Chang Tam Fei and Shee Va. The film is spoken in Cantonese, with English subtitles. Not suitable for children under 13 (Group B). The duration is 91 minutes.
Admission is free, but subject to limited seating.
Don't miss it!
For Macau, Further and Higher!