Piano Sessions – Elite Association – 2021.09.10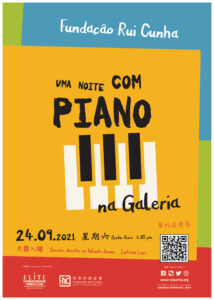 Youth Talent Open Event
The piano evenings on Friday, co-organized by the Rui Cunha Foundation and by Elite – Association for Musical Creativity and Culture, has returned with new hosts on a twice-a-month presence.
In 2021 the FRC Gallery is holding again this popular event dedicated to music, giving children of all ages the opportunity to share their talent and to gain experience by performing in public.
The sessions are led by Anson Lai and Karen Lam, who now share the stage with the well-known presenter Livia Chau.