Autumn Moon shines over the Lake of Lingnan – 2021.08.11
After an interruption from regular activities, due to the cooperation with Government authorities in preventing the Covid-19 Pandemic, the Rui Cunha Foundation reopens this Wednesday, August 18th, with the Chinese Painting and Calligraphy Exhibition "Autumn Moon Shines Over the Lake of Lingnan" by Lee Chau Peng. The artist is a well-known calligrapher and painter who is also President of the Macau Association of Arts, Painting and Calligraphy.
The title of the exhibition reflects Lee Chau Peng's influence as a disciple of the artistic style of the Lingnan School of Painting. The exhibition showcases around 40 pieces of painting with calligraphy, which include themes of flowers and birds, fish and insects, landscapes and other motifs, in addition to highlighting the 72nd Anniversary of the People's Republic of China and the 22nd Anniversary of the Return of Macao to the Motherland. His calligraphy is mainly based on current script and cursive script.
Most of the pieces featured in this solo exhibition will be displayed for the first time here at the FRC Gallery. Lee Chau Peng has held calligraphy and painting exhibitions every year since 2011. This is the tenth year and his 18th calligraphy and painting exhibition.
Born in 1959, the artist began his career as an interior designer, graduated from the Hong Kong Institute of Design and Industry. The passion for the arts comes from childhood, having learned Chinese painting and calligraphy under his father's influence, when he was about six years old.
His academic path then took him to the world of design and business management. He went on to Canadian Public Royal University, where he earned a Master of Business Administration, and then to Princeton University, where he got his PhD in Management Philosophy, as well as Renmin University of China, with a degree in Business Administration. At 62 years of age, the artist's tireless spirit is admirable, being also licensed and practicing Chinese Medicine since 1999.
The current exhibition will be open until the 28th of August 2021.
Admission is free, subject to the health recommendations implemented by local authorities.
Don't miss it!
For Macau, Further and Higher!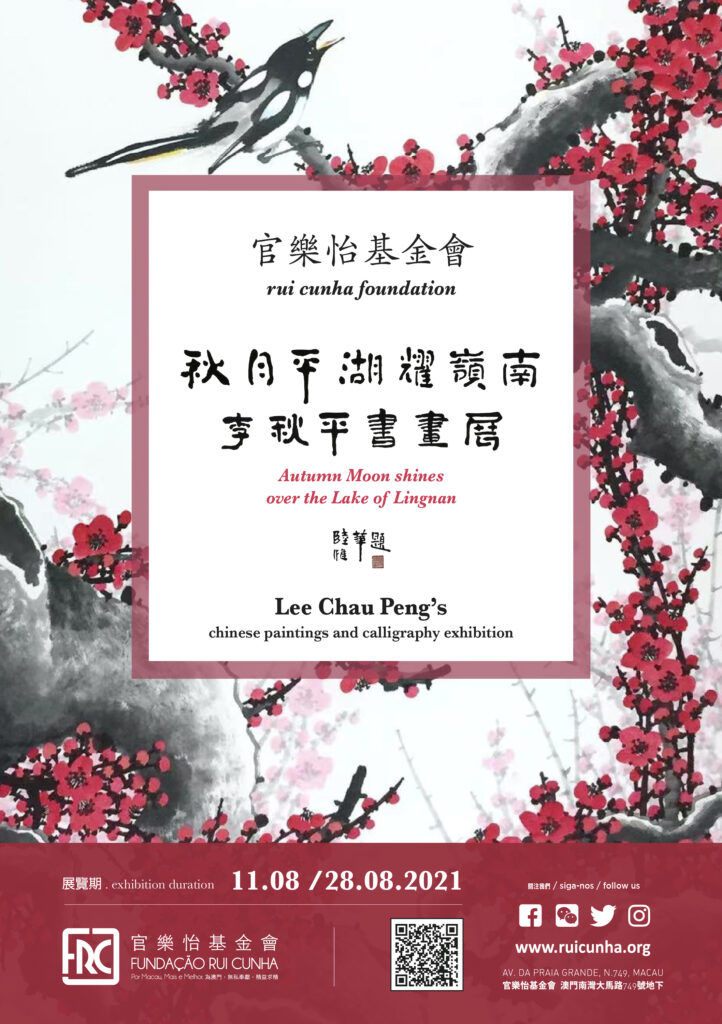 2021.08.27 – WORKSHOP LEE  CHAU PENG