Calligraphy Exhibition by Chen Zhuo Yu . "Exceptional…" – 2021.07.14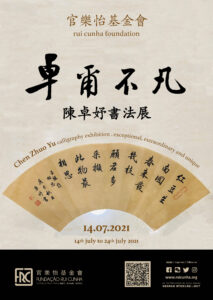 The Rui Cunha Foundation will inaugurate on Wednesday, July 14th at 3:00pm, a Calligraphy Exhibition by Chen Zhuo Yu, under the title "Exceptional, Extraordinary and Unique", co-organized with the Macau Calligraphy Institute to showcase the excellence of the artistic work of a talented 17-year-old calligrapher.
The exhibition will display 21 artworks that reveal the young artist's level of experience, having been awarded several times and exhibited in Macau, Hong Kong, Panama, Guangzhou, Foshan, Anhui, Xi'an, Qufu and other destinations. «Among the works now exhibited are the script based on the stele of Cao Quan», or the «composition of the Wang Zi "Sheng Jiao Xu", which gives people the impression of being an exemplary model of calligraphy», according to the manifesto on the artist written by one of its masters and teachers, Ouyang Zerong, founding president of the Macau Calligraphy Institute.
Also, he reveals, «Chen Zhuo Yu has been learning calligraphy from me in recent years. I observed her repetition training technique and her progress, which made me acknowledge that she is "savvy" in the study of calligraphy. The so-called "comprehension" is achieved by a high degree of concentration and careful contemplation. She is able to comprehend and infer other meanings, even draw correlations from various signifiers. Therefore, this is an extraordinary level for any other teenagers of the same age».
Chen Zhuo Yu was born in the city of Guangzhou, Guangdong Province. She has loved calligraphy since childhood, having started studying at the age of seven with Professor Yang Shuwen in Guangzhou. After immigrating to Macau, she studied calligraphy with the well-known calligrapher Miss Ma Teng (馬騰) and Mr. Ouyang Zerong (歐陽 澤榮). She has won numerous awards in calligraphy competitions and her works have been exhibited in several Asian cities. At the age of 17, she studies at the Chinese section of Santa Rosa de Lima School in Macau.
The exhibition will be open until the 24th of July, 2021. Admission is free, but subject to capacity limitation, according to the health recommendations implemented by the local authorities.
Don't miss it!
For Macau, Further and Higher!