In the Footsteps of George Chinnery. An English Artist in Macao – 2021.06.29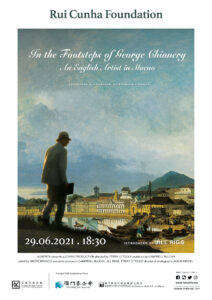 The Rui Cunha Foundation will hold next Tuesday, June 29th, at 6.30pm, a film screening of the documentary "In the Footsteps of George Chinnery. An English Artist in Macao", directed by Terry O'Toole and produced by Campbell McLean.
George Chinnery was one of the first and most notable European artists in the 19th century to live in Southern China prior to the arrival of photography.
His sketches, watercolours and oil paintings are held in private collections and museums worldwide. Now, for the first time on film, the life and works of the artist are depicted during his years in Macau at the height of the China Trade.
The documentary is presented and narrated by Dr. Patrick Conner, a world-renowned expert on China Trade paintings.
Conner arrives in Macau and retraces Chinnery's footsteps, visiting many of the artist's favourite sketching locations, highlighting the significance of the artist's work on the study of Chinese culture and the impact of the European traders in Macau and China, during the turbulent years surrounding the first Opium War. Historical references include quotes from the American diarist Harriet Low.
This fascinating 50-minute documentary, broadcast internationally, gives audiences a rare insight into the life of George Chinnery, one of the few artists to spend most of his career in India and Guangdong province on the South China Sea coast.
Before the screening, we will hold a brief introduction by Jill Rigg, co-producer.
Jill Rigg, is a business development specialist and executive director and chair of Greater Bay Area – China at the British Chamber of Commerce.
In The Footsteps of George Chinnery was her first television project and she was instrumental in linking the production with all of the major collectors of Chinnery's works in Hong Kong.
The event will be held in English.
Admittance is free, but subject to limitation due to compliance with the regulatory health measures in force.
Don't miss it!
For Macau, Further and Higher!