Porcelain Painting Masterclass . Arlinda Frota – 2021.05.21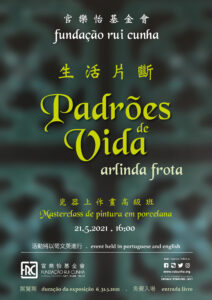 The Rui Cunha Foundation presents next Friday, May 21st at 4:00 pm, a Porcelain Painting Masterclass by Arlinda Frota, within the scope of the "Patterns of Life" Exhibition, which is on display at the FRC Gallery until the 31st of May.
After an extension of the exhibition period, previously scheduled to end this week, the artist is now generously available to talk about the history of porcelain painting and to demonstrate live techniques and materials at the gallery, given the general interest of the audience and the influx of visitors during this exhibition.
According to Arlinda Frota, «the intention of this program is to transmit awareness of the different porcelain painting techniques, the understanding of the work environment and the state of mind necessary to create any art piece. Also, all the essential care for the different steps of a production: from the choice of the piece to be painted, to the definition of the intended design to be adapted on that piece, the colors to be chosen and their preparation, and the attention related to the burning of the pieces».
At the same time, the artist intends to «share a historical revision of porcelain, and of porcelain painting, through the centuries since its creation, during the Han Dynasty, in the period 220 to 206 BC, and since the so-called Proto-Porcelain».
Teacher and mentor of this art in the territory, Arlinda Frota has regularly taught courses in Porcelain Painting, since 2014, at Casa de Portugal in Macau. In the last 5 years she has attended several free courses and workshops in painting and ceramics, having developed several techniques for painting with acrylic paints and oils, as well as the production of Portuguese tiles.
The class is free and registration is not required. Scheduled for 4:00 pm, the module will be presented in Portuguese and English, with some practical demonstrations.
Don't miss it!
For Macau, Further and Higher!