Macau no Cinema . Macao – 2021.05.18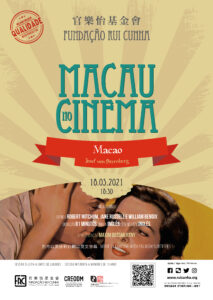 The Rui Cunha Foundation presents next Tuesday, May 18 at 6:30 pm, the third in a series of nine films, under the theme of Macau in the Movies.
The session will show a classic from North American cinema, named "Macao", directed by Josef von Sternberg in 1952. The film was one of the last from Sternberg's career, becoming a symbol of the end of the Golden Age of RKO Radio Pictures.
With Robert Mitchum and Jane Russell in the lead roles, the plot unfolds on an exotic and bustling Macao, where Halloran (owner of an illegal casino), in collusion with Lieutenant Sebastian, a local policeman, controls the game, jewelry trafficking and other criminal operations.
In addition, there is a law in force that prevents international authorities from intervening in the affairs of Macao, so Halloran remains completely unpunished in the territory.
After the murder of the last American agent who tried to catch him, the New York Police send a replacement. On the boat from Hong Kong to Macao where he travels, Julie Benton, a beautiful and seductive singer, Nick Cochran, an adventurer in trouble with the law, and Lawrence Trumble, a businessman, also follow.
Halloran and Sebastian, believing that Nick is a policeman, they start to chase him. Julie is hired by Halloran to sing at his casino, but she and Nick fall in love. From there, a roadmap of endless violence, betrayal and persecution begins.
The screening will take place at the Gallery of Rui Cunha Foundation, preceded by a short presentation by Maxim Bessmertny, director, screenwriter and producer.
Admittance is free, but subject to seat restrictions. The doors will open at 6:00 pm.
This film is spoken in English, with English subtitles. Duration: 1h 21min.
Not recommended for public under 18 and prohibited for children under 13 (Group C).
Don't miss it!
For Macau, Further and Higher!