Rui Cunha Foundation donates art collection to Kiang Wu Hospital – 2021.05.04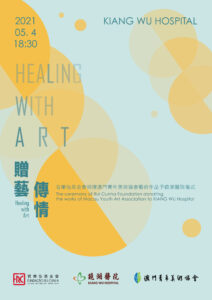 The Rui Cunha Foundation, in the person of its Founder, Dr. Rui Cunha, will offer to the Kiang Wu Hospital a collection of 25 paintings executed by young artists from the Macau Youth Art Association. The ceremony will take place on Tuesday, May 4th at 6:30 pm, at the main entrance of the referred hospital unit, at Rua Coelho do Amaral, with a subsequent visit to the 3rd floor, where is located the corridor that will permanently welcome the set of works with the title "Healing with Art".
The donation takes place within the frame of Rui Cunha Foundation's 9th Anniversary celebrations, which was celebrated last Wednesday, April 28, paving the way for the tenth year of activities with the mission of advancing outwards and reaching closer to local communities.
The works of art are part of the "Art in Home / Exhibition", that was on display from 5 to 28 February 2021 at the Center for Contemporary Art of the Macao Naval Workshops, curated by Lai Sio Kit, President of the Association and also a prestigious local artist. The selection of the 25 pieces was made by the curator, out of a total of two hundred, to be acquired on behalf of the Rui Cunha Foundation in order to support the young talents of Macau.
This is the first step taken towards expanding the FRC out of doors, fulfilling the will of the Founder since long ago, to encourage local artistic creation and to take art to other places where more people can enjoy it. Be it exhibitions, concerts, conversations, all the reasons are valid for sharing culture with the different audiences of Macau, bringing music to a garden terrace or humanizing the walls of an infirmary.
The purpose is to continue to spread Macau's culture and values in the coming years, to invest in the artistic expression of its young people, to expand the Rui Cunha Foundation's presence beyond Nam Van headquarters and to strengthen friendship and partnerships with other local and nearby institutions.
For Macau, Further and Higher!