Quarantine 21+7" Photography Exhibition – 2021.04.20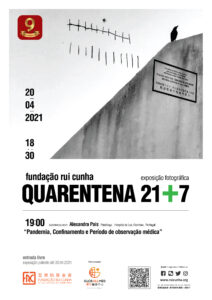 The Rui Cunha Foundation presents next Tuesday, April 20th at 6:30pm, the Photographic Exhibition "Quarantine 21+7", curated by António Mil-Homens, which will be followed by a conversation at 7:00pm with Alexandra Pais, Psychologist at Hospital da Luz in Coimbra, Portugal, on the topic of the "Pandemic, Confinement and Medical Observation Period".
The project features 20 panels with photographs by different authors, representing the daily lives of the first residents who were confined in the mandatory 21-day quarantine, plus 7 days for observation, after the return from Europe in early 2021. The experiment took place between 21 January and 1 1February at the Grand Coloane Resort Hotel in Macau.
As described by the collective of artists, "the photos in this exhibition are the result of a spontaneous daily photography contest that was organized by a group of residents undergoing quarantine. All the communication was done through a messaging App. Some of the people in the group didn't know each other. The challenge created by the contest between people in the same situation inspired them to think positively and creatively. It wasn't easy to come up with new subjects to photograph while confined to a hotel room. But this challenge, and the extensive communication it required, helped to create a positive emotional bond with the surroundings, and with each other».
The display will also show a set of objects that symbolize the high moments of everyday life in isolation. To frame the success of this resilience test – which was also due to the «the amazing cooperation from family and friends on the outside, the kindness of the hotel staff, and the effort of the Health Services personnel», according to the participants – there will be a related talk with Psychologist Alexandra Pais, live from Portugal, and the participation in the opening of the debate by Public Health Specialist, Dulce Trindade.
«This exhibition intends to raise awareness on the mental impact of quarantine, and show how that impact can be reduced by keeping the right mindset: solidarity, imagination and positivity», reads the manifesto of intentions.
The artworks will be on display until April 30, 2021.
Entrance is free.
Don't miss out!
IN APRIL, CELEBRATE WITH US
For Macau, More and Better!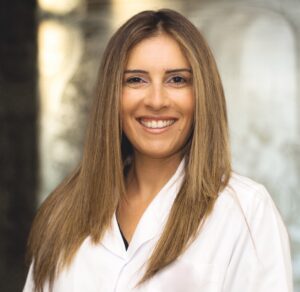 Breve Nota Biográfica – Alexandra Pais
Psicóloga Clínica, com Mestrado Integrado em Psicologia Clínica e da Saúde – Subárea de Especialização em Intervenções Cognitivo-Comportamentais nas Perturbações Psicológicas da Saúde. Detentora de Pós-Graduação em Psicopatologia do Adulto – Diagnóstico e Intervenção e Pós-Graduação em Avaliação e Reabilitação Neuropsicológica.
Especialista pela OPP em Psicologia Clínica e da Saúde e Psicoterapia.
Psicoterapeuta Cognitivo-comportamental acreditada pela Associação Portuguesa de Terapia do Comportamento (APTC).
Psicóloga e Psicoterapeuta no Hospital da Luz, Coimbra e Lisboa; Coordenadora da Unidade de Psicologia do Hospital da Luz, Coimbra.
Professora Certificada de Mindfulness (MBSR) pelo Centro para Mindfulness da Universidade da Califórnia em San Diego.
Formação Intensiva Especializada em Mindfulness Baseado em Terapia Cognitiva (MBCT) pela Universidade de Bangor e Formação no Programa:  Search Inside Yourself, ministrado pelo Search Inside Yourself Leadership Insitute (SIYLI).
Cursos e Formações na área das terapias Cognitivo – Comportamentais de Terceira Geração.
Formadora na área do Mindfulness Clínico e dinamizadora de Workshops e Cursos Breves no campo da Psicologia Clínica.
Dinamizadora de Programas de Redução de Stress baseada em Mindfulness (MBSR) de 8 semanas.