How is COVID – 19 Changing Competition Law? – 2021.01.26
Seminar on "How is COVID – 19 Changing Competition Law?"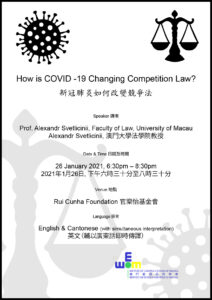 The Institute of European Studies of Macau is going to organize a seminar on "How is COVID – 19 Changing Competition Law?" on 26 January 2021 at 6:30pm at Rui Cunha Foundation. IEEM has invited Dr. Alexandr Svetlicinii as the speaker for this seminar.
The unprecedented economic disruptions caused by the COVID-19 pandemic have presented a "black swan" event both for businesses and governments alike, with the former trying to stay afloat during the economic downturn and the latter trying to devise effective economic recovery strategies. In the field of competition law, governments and competition authorities worldwide have attempted to balance the need to preserve market competition and to ensure the supply and fair distribution of scarce products to all consumers.
The presentation will discuss how competition policy can help to address the immediate challenges with supply and demand raised by the COVID-19 pandemic and contribute to medium and long-term economic recovery. It will focus on the current developments in the field of competition law (antitrust and merger control) in the European Union and its Member States by highlighting the emerging trends of combining competition and industrial policies, rising economic protectionism and preserving competitive neutrality, regulatory responses to digitization, etc.
Dr. Alexandr Svetlicinii is Associate Professor at the University of Macau, Faculty of Law, where he also serves as Programme Coordinator for the Master of International Business Law. His primary areas of expertise cover competition law, international economic law and dispute settlement. One of the focus areas of his research at the University of Macau is legal cooperation among BRICS countries (Brazil, Russia, India, China, South Africa) in the global economic governance. Alexandr Svetlicinii is co-editor of The BRICS-Lawyers' Guide to Global Cooperation (Cambridge University Press, 2017) and co-author of The BRICS-
Lawyers' Guide to BRICS Texts and Materials (BRICS-Lawyers, 2019). In 2020, Dr. Svetlicinii has published the monograph Chinese State Owned Enterprises and EU Merger Control (Routledge), supported by the Asia Europe Comparative
Studies Research Project – IEEM Academic Research Grant 2019 awarded by the Institute of European Studies of Macau.
The seminar will be held in English and Cantonese (with simultaneous interpretation).
For further inquiries please call Ms. Beatrice Lam (+853 28 35 43 25/6) or e-mail beatrice@ieem.org.mo.
The Institute of European Studies of Macau