Our Pursuit of Art . Oil Painting Exhibition – 2021.01.15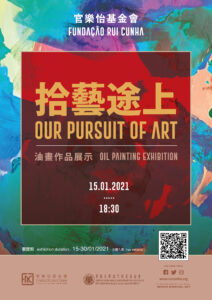 The Rui Cunha Foundation presents on January 15, 2021, Friday at 6:30 pm, the Collective Exhibition of Oil Painting "Our Pursuit of Art", which brings together the works of 23 artists, fourth-year students at the Amateur Continuing Study Centre in Macau, an extension of the School of Arts of Hua Qiao University, from Guangdong Province, China.
The project, supported by the Macau Education Fund Society of Hua Qiao University, is now visible through the effort and work developed by young artists over the past three years of study, dedicated to oil painting techniques, of which 38 art pieces will be on display.
«It is every painter's dream to share with art lovers his or her works and journey of arts through curating exhibitions. This display of oil paintings similarly condenses the dreams of all the participants in the past three years», says the exhibition's manifesto, bringing to the FRC Gallery the quality and creativity of new artists in training.
The twenty-three painters at this show come from different industries and backgrounds, all with a common passion for the art of oil painting. That is why they joined the 5-year Bachelor of Fine Arts (Oil Painting) program – Macao Class, co-organized by the Hua Qiao University School of Arts and the Center for Continuing Education for Amateurs, with the strong support of the Macao SAR Government. The program was created to give local artists the opportunity to pursue their ideals and learn to free their imagination through brushes and paints.
 The art works will be exhibited at the FRC Gallery until January 30, 2021.
Don't miss!
For Macau, Further and Higher!