Safe As . Collective Exhibition of Visual Arts – 2020.12.16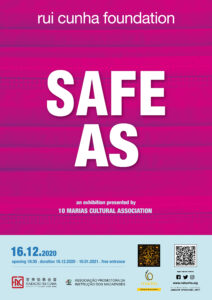 The Rui Cunha Foundation presents on December 16, Wednesday at 6:30pm, the inauguration of the collective exhibition "Safe As", a plastic arts project with the signature of 10 MARIAS Cultural Association.
"Safe As" is a collective show of five artists presenting ten art pieces with the irreverent nature of 10 MARIAS Cultural Association. The purpose for these original works is to manifest the different facets of personal and family experiences, among other interactions, during the different phases of the pandemic of 2020. The names behind the artwork are, in alphabetical order, Bruno Oliveira, Célia Brás, Marieta da Costa, Mónica Coteriano and Patrícia Soares.
From the first alert about the Covid-19 virus to the present, the impact on all nations has been intense and reveals consequences in the way people live their daily lives, how they communicate, how they move, how they work, how they deal with different problems and situations, never before experienced. The exhibition intends to generate as many thoughts and reflections as possible on the theme.
According to Mónica Coteriano, curator of this artistic installation, the project highlights three main themes that formed the structure for the initial creation:
I. The Mask – as a world symbol of the year 2020.
II. The Cloistered Experience – as the new reality of the year 2020 and all the consequences that this has brought to contemporary society.
III. Virtual Communication – as a new form of relationship at work and personal level.
The exhibition will be open to the public until the 8th of January 2021 at the FRC Gallery.
Don't miss it!
For Macau, Further and Higher!
10 MARIAS Associação Cultural is a non-profit project that was born in 2016. The Association focuses on art as the creation of affections and perceptions. By creating, organizing and presenting visual, performing arts, dances, music or new technologies, the Association is reinforcing cultural transmission and, at the same time, shedding light on other perceptions, other means of expression and other realities.
10 MARIAS previous 5 events:
"From where I stand" – mobile photography installation, Casa Garden (2016)
"Book Hoop" – curated by Jorge Simões and Paulo Côrte-Real, Casa Garden (2017)
"Sunday of Love" – cabaret / performance, LMA (2018)
"4 Steps to the Clouds" – installation, Creative Macau (2019)
"From Paris with Love – Mamashemade" – concert, Casa Garden and Rui Cunha Foundation (2019)
Contacts:
https://www.facebook.com/10MCA
Mónica Coteriano, mobile (+853) 6299 8404