Bel Canto Saturdays – 2020.12.12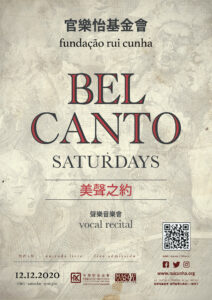 The Rui Cunha Foundation presents an afternoon of Bel Canto Saturdays, on December 12th at 5:00pm, with the voices of soprano Ivy Lee and tenor Sunny Chan, accompanied by the piano of Coris Cheong. This session will also feature solo piano performances by Vanessa Lee and Erica Chan, guided by instructor Sandra Poon.
The program that will be performed on the FRC Gallery includes a dozen pieces of music by composers as diverse as Franz Lehár, Gaetano Donizetti, Gu Jianfren, Agustín Lara, Eduardo di Capua, Muzio Clementi, Dmitry Kabalevsky, Johann Sebastian Bach, Ludwig van Beethoven, Frédéric Chopin and Franz Schubert.
Bel Canto is perhaps the maximum expression of the human voice. The Italian term was coined in the 18th century. This vocal technique emphasizes the beauty of sound and the technical capacity of the artist, instead of the dramatic expression or romantic emotion, which is still taught today in a similar way as it was in the past.
The entrance is open to all interested and lovers of lyric music.
美聲之約_BelcantoProgram_2020.12.12
Don't miss it!
For Macau, Further and Higher!