Pause and Discover Yourself . ARTM Annual Showcase – 2020.12.01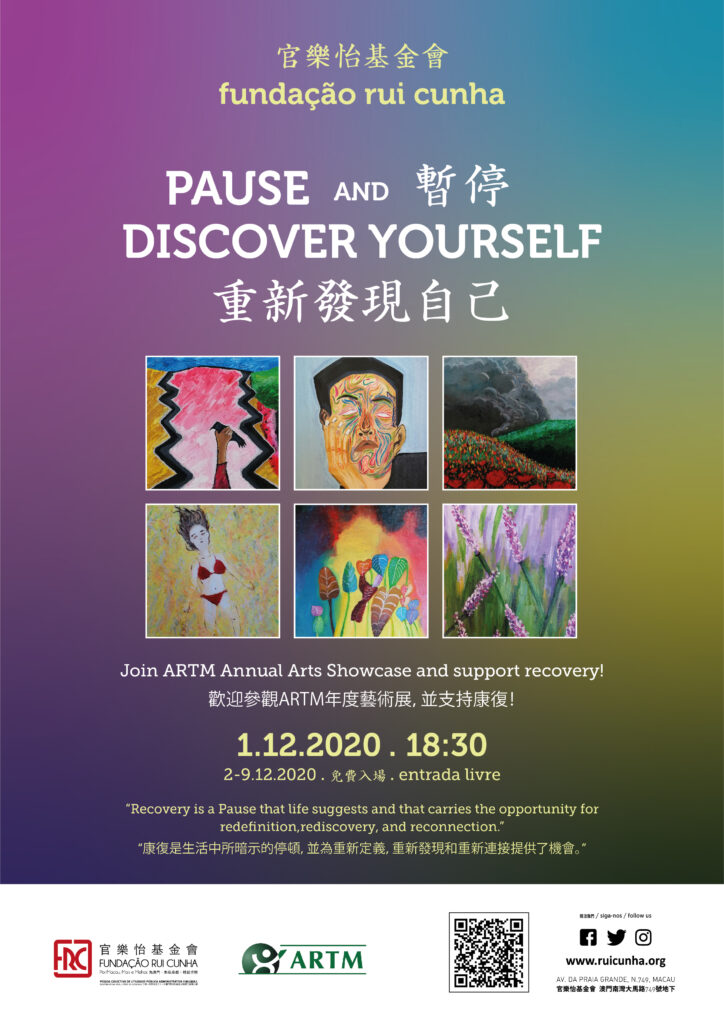 The Rui Cunha Foundation opens the door next Tuesday, December 1st at 6:30 pm, for the inauguration of the Annual Arts Showcase of ARTM – Association of Rehabilitation of Dependencies of Macau, entitled "Pause and Discover Yourself", which will display diverse arts and crafts pieces made by patients on the process of recovery from the therapeutic community.
This work with art crafts is an important component in the daily life of the ARTM community, as vocational training through recreational activities. Using different tools and techniques, patients can better express their feelings and explore their perception of the world around them, when words are not enough, or when they are not yet aware of their new role in a future life free of dependencies.
The aim of the ARTM treatment center is to promote a more holistic lifestyle and to identify areas for change, such as negative behaviors and emotions that can lead to substance use. «We believe that, through these different activities – such as oil painting, woodwork, clay and ceramics, textile work and sewing, among others –, we can promote a powerful physical, emotional, mental, spiritual healing, and the growth of people throughout their change process", emphasizes the Association on the presented project.
The Association of Rehabilitation of Dependencies of Macau is a local non-profitable organization that provides therapeutic programs aimed at achieving recovery from drug dependency and other addictions, such as gambling and alcohol. «In the treatment program, we offer a variety of services to assist patients in achieving self-understanding, addressing their problems of drug abusive behavior, rebuild relationships with their family members, reintegrate into society and develop a new outlook on life».
The current display is an overview of such annual achievements, executed during the moments of pause and discovery through art. "Pause and Rediscover Yourself" is a collective showcase, with the efforts and energy of more than 20 participants that created a series of meaningful pieces of art. «The results are always satisfactory and the sense of accomplishment has been fulfilled. It gives us more motivation towards continuing to explore other ways to create new and beautiful lives together», hopes ARTM.
The showcase will run until December 9th at the Rui Cunha Foundation Gallery.
Don't miss it!
For Macau, Further and Higher!