Intellectual Property Law and the Creative Economy – 2020.12.14
Seminar – Intellectual Property Law and the Creative Economy: The Case of the Fashion Industry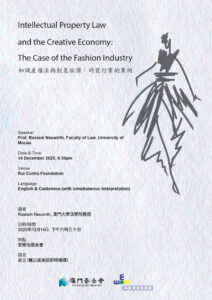 In the wake of the seminars and courses on Intellectual Property Law held for the past 20 years, the Institute of European Studies of Macau will organize a seminar on "Intellectual Property Law and the Creative Economy: The Case of the Fashion Industry" on 14 December 2020 at 6:30pm at Rui Cunha Foundation. The speaker, Prof. Rostam Neuwirth, will outline the novel dynamics of the creative economy and discuss the fashion industry.
Prof. Neuwirth is a Professor of Faculty of Law at the University of Macau, where he teaches international cultural law, comparative law, law and technology, legal theory, intellectual property, and international economic law. He holds a Ph.D. from the European University Institute in Florence and an LL.M. from the McGill University. He has also taught in India and worked for the Austrian Federal Ministry for Foreign Affairs.
This seminar will be held in English & Cantonese (with simultaneous Interpretation).
This programme is supported by Macau Foundation
For further inquiries please call Ms. Beatrice Lam (+853 28 35 43 25/6) or e-mail beatrice@ieem.org.mo.
The Institute of European Studies of Macau